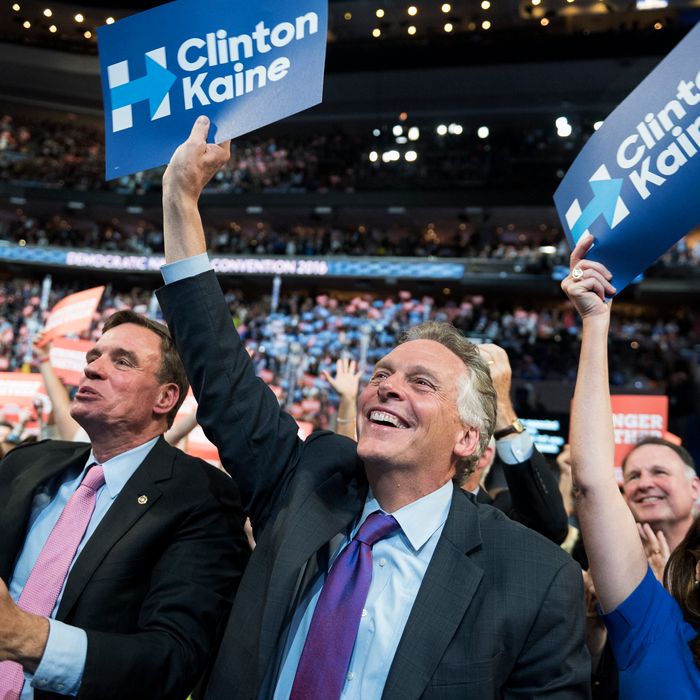 Virginia governor Terry McAuliffe at the Democratic National Convention.
Photo: Tom Williams/CQ-Roll Call,Inc.
Virginia governor Terry McAuliffe is a longtime Clinton ally, prolific Democratic fundraiser, and former Clinton Foundation board member, and last May we learned that he's the subject of a federal investigation into his campaign contributions. Considering these facts, it's a bit surprising that his name hasn't been bandied about in this election, like that of Sidney Blumenthal, but he just made a belated entrance.
The Wall Street Journal reported on Sunday night that McAuliffe's political-action committee donated nearly half-a-million dollars to the 2015 state Senate campaign of Dr. Jill McCabe. She is married to Andrew McCabe, who later became the deputy director of the FBI and helped oversee the agency's investigation into Hillary Clinton's private-email server. The story immediately caught the attention of the GOP nominee:
However, it's not clear that the money had anything to do with Clinton, and some say the Journal is unfairly implying that there's something nefarious about McAuliffe's benign attempt to get a fellow Democrat elected:
Dr. Jill McCabe is a hospital physician who had never run for office before. She was recruited by McAuliffe and other state Democratic leaders as part of an effort to win a Democratic majority in the Virginia legislature. As the Journal notes, this would have given McAuliffe "significantly more sway in Richmond, the state capital."
McAuliffe's political-action committee, Common Good VA, donated $467,500 to Dr. McCabe's campaign, making her the organization's third-largest beneficiary. The Virginia Democratic Party, which the governor has significant influence over, gave McCabe $207,788. Combined, those donations made up more than a third of the campaign funds she raised.
While the campaign spent $1.8 million, Dr. McCabe ultimately lost to incumbent Dick Black, and Republicans maintained control of the Virginia legislature.
According to McAuliffe's spokesperson, the governor only met with the McCabes once — on March 7, 2015 — to urge Dr. Jill McCabe to run. At the time, Andrew McCabe was running the FBI's Washington, D.C., field office. FBI officials say he sought and followed ethics advice from the agency, taking no role in the campaign and avoiding work on public corruption cases in Virginia.
In the same month that Dr. McCabe launched her campaign, it was revealed that Clinton used a private-email server while she was secretary of State. The FBI probe was launched in July 2015, and the FBI's D.C. field office provided personnel and resources for the investigation.
At the end of that month, Andrew McCabe was promoted from the D.C. field office to the FBI headquarters, taking the number-three position there. He was promoted again in February 2016, becoming FBI Director James Comey's second-in-command. At that point — months after his wife's campaign ended — he became part of the team overseeing the Clinton probe, but FBI officials said Comey made all the final decisions in the investigation.
McAuliffe's spokesperson said he backed Dr. McCabe because he thought she would be a good state senator, and "Any insinuation that his support was tied to anything other than his desire to elect candidates who would help pass his agenda is ridiculous."
Journal reporter Devlin Barrett, who wrote the story, said on Twitter that he was not saying the campaign contributions were definitely connected to the Clinton email probe:
But even if the events had nothing to do with each other — as the governor, the McCabes, and the FBI claim — if you're a presidential candidate arguing that corrupt D.C. elites have rigged the system against you, there's plenty here to complain about.