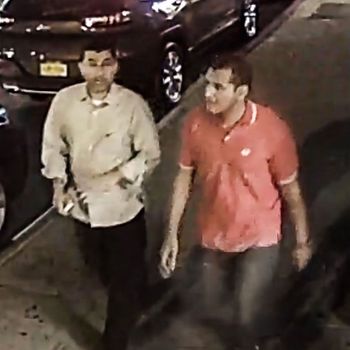 The two EgyptAir security guards apparently didn't know what they had really found in the bag until contacted by the Egyptian press.
Two EgyptAir security guards have been identified as the men who found a travel bag which contained the second of two bombs used in last month's terrorist attack in the Manhattan neighborhood of Chelsea. The in-flight security officers, Hassan Ali and Abou Bakr Radwan, were spending their time off in Manhattan at the time, and were identified by EgyptAir officials on Friday, according to the New York Times. They apparently have not been interviewed by U.S. or Egyptian authorities yet, but U.S. law enforcement officials had already indicated that they did not believe the men were involved in the bombing plot, and indeed think the men may have unintentionally deactivated the homemade bomb when they dropped it on the ground. The FBI still wanted to speak with them, however, and had asked the public for help in identifying them.
On the night of the bombing, a surveillance camera captured Ali and Radwan finding and opening a small piece of luggage on West 27th Street, then removing a plastic bag which turned out to contain an improvised-explosive device fashioned out of a pressure cooker. The two men left the plastic bag on the ground and then walked away with the luggage. So far, it seems that suspected bomber Ahmad Rahami, who was apprehended by police within 48 hours of the bombings, acted alone in staging the attacks in Manhattan and New Jersey on September 17.
The Times reports that an EgyptAir official says that Ali and Radwan had just thought they had found a pot in the bag, and that Mr. Ali didn't want to have to fly the pot back to Cairo. "You know, we see things left on the street in New York all the time," the official told the Times, "Stuff no one wants. It's normal to take them."
The two men are apparently now very unnerved that they are wanted as witnesses in the case, as they had no idea they were involved until the Egyptian press started calling them for comment. The Times also notes that the last public post Radwan published on his Facebook page, the day before the bombing, was a video imploring that people not associate Islam with terrorism.