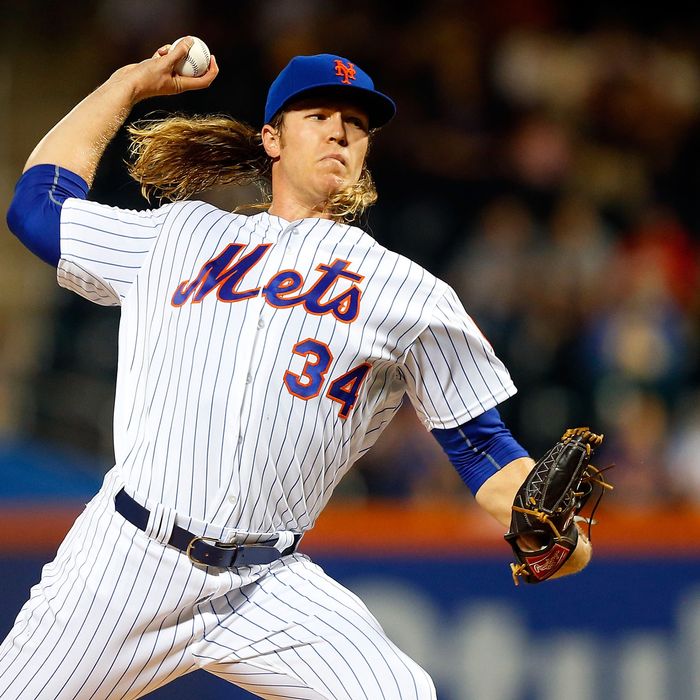 Photo: Jim McIsaac/Getty Images
There have been nine Wild Card games since Major League Baseball went to the current postseason format in 2012. The tenth, which will be played tonight between the Mets and Giants at Citi Field, features the best matchup of starting pitchers yet.
Long haired, Mjölnir-throwing righty Noah Syndergaard for the Mets and heavily bearded, snake-killing lefty Madison Bumgarner for the Giants. Both pitchers finished the season in the top five in all of baseball in ERA (Syndergaard was third with 2.60 and Bumgarner fourth with 2.74), but they did it in markedly different ways.
Bumgarner is a workhorse whose 226.2 innings were second in the National League. He struck out 251 batters with his three-pitch arsenal that relies on a 93-mile-per-hour fastball and two breaking balls, a curve and cutter, that are only getting better as he ages. Syndergaard, meanwhile, pitched 40 fewer innings than Bumgarner but outpaced him with a 10.69 K/9 thanks to a 100-mile-per-hour heater and a devastating slider.
For all of the hype tonight's starters are getting, there's no guarantee that Citi Field will host a pitchers' duel, though. Tuesday night's American League Wild Card game saw the Blue Jays and Orioles, two of the game's most potent offenses, play in one of baseball's most hitter-friendly parks, and each failed to score more than two runs until the 11th inning.
So maybe the Mets and Giants will light up each other's ace and force Terry Collins and Bruce Bochy to rely on their bullpens. If so, the Mets will be pleased. The Giants' bullpen has been the team's biggest liability this season. Without the 30 blown saves given up by its relievers, the Giants might not be dealing with the stress of a Wild Card game. At the very least, they'd be playing tonight in San Francisco.
The problem for the Mets, though, once again, is Bumgarner. This season he went nearly seven innings per start, among the most in baseball. If he's able to do that tonight, expect Bochy to mix and match relievers for the final six outs in an attempt to sneak out of Queens without blowing the game. But if Bumgarner can't channel the magic of the 2014 postseason, which saw him put up 1.13 ERA across 47.6 innings, the Mets will have more than a good chance of advancing to the NLDS.
Their prize if they do? A date with the best team in baseball and anointed team of destiny, the Chicago Cubs.