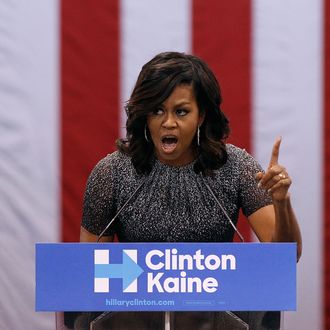 Michelle Obama has been a veritable force on the campaign trail.
Photo: Ralph Freso/Getty Images
This Thursday, First Lady Michelle Obama will appear with Hillary Clinton at a campaign event in Winston-Salem, North Carolina, according to a statement from Clinton campaign spokesperson Brian Fallon on Sunday.
The event will be the first time the two first ladies have appeared together on the campaign trail and comes at a time when an increasingly confident Clinton — with less than three weeks to go until the election — is making a final push for battleground states.
Michelle Obama has emerged as a political force this election season with her speeches and appearances garnering widespread praise. Her presence could be especially vital in North Carolina. The state voted for Obama in 2008, but went for Mitt Romney in 2012, mostly thanks to a lower turnout of African-American voters. The thinking is that Michelle Obama could be instrumental in getting those voters to the polls.
"I think she has emerged as our not so secret weapon out on the trail. She has exceeded our expectations in terms of how many events she has been able to do and been willing to do," Fallon said. "Her team keeps surprising us with additional availability and we can't, from our vantage point, get her out there enough … She has been an absolute rock star."