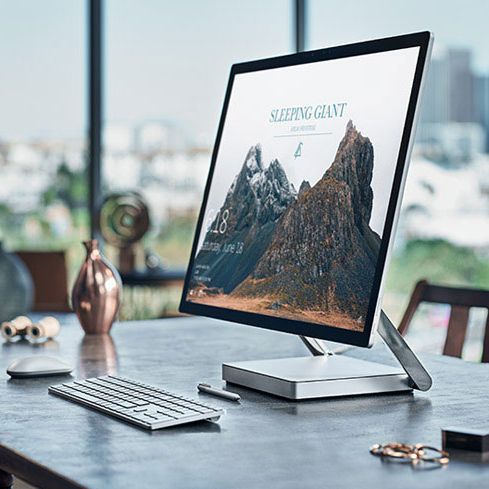 Today's Microsoft event, held in New York City, was dominated by one thing: the Microsoft Studio, a piece of desktop hardware starting at $2,999 that's firmly aimed at "the artists and the creators."
But here's the issue. While Windows still owns the world — various versions of Windows make up almost 90 percent of the total OS market share — within the world of graphic design Apple still rules. Walk into any office where people specialize in manipulating or creating images, and you'll see an ocean of Macs. The reasons for this vary from tradition (the earliest versions of Photoshop were released for Macintosh exclusively), to education (most universities teach graphic design on a Mac), to the snobbish appeal Apple has cultivated so carefully over the years.

Led by Microsoft's Panos Panay, the Surface line of computers has (after an extremely shaky launch) slowly emerged as one of the bigger innovators in computing hardware. The Surface Pro 3 proved that a tablet that also worked as a laptop was possible. The Surface Book, released last year and updated today, proved that a laptop can be a good convertible without also being a shitty laptop (the screen popping off the top was just a neat trick).

But this pales in comparison to the what Panay and Microsoft are attempting with the Surface Studio. While it bears more than a slight resemblance to the iMac, the Surface Studio is an audacious gamble, a $2,999 28-inch touchscreen computer that you can angle upwards so it acts as a drafting board. Or put another way, it's very expensive desktop with a very specific use case: drawing and writing on a huge (and very beautiful) screen. And it's a computer aimed squarely at a market that has, traditionally, spurned all things PC.
Seeming slightly drained after his keynote presentation, Panay was quick to say he doesn't see the Surface Studio and Microsoft facing headwind in finding fans among graphic designers. "I don't feel the headwind, as much as I do the opportunity," he says. "I think the space needs more intention." Creators, he says, currently use disparate bits of equipment to work — a Wacom tablet, a pen, a large monitor, a CPU. The Studio is Microsoft's attempt to bring all of those together.
Panay sees a core audience of creators — some of whom he says have already made the switch from Mac to Surface — who want to get away from all that distraction. "Let's take this thing off their desk, let's take this thing off their desk. Let's give them a prized piece of product. And it's just about you and your pixels."
Key to all this is giving graphic designers the ability to draw directly on the screen. For years, anyone wanting precision has used a Wacom tablet, drawing on a black pad set next to their computer while watching on the screen as their pen moves get replicated. It's a weird bit of cognitive dissonance that graphic designers have simply learned to accept. That just doesn't exist on the Studio — draw a line, and it appears in front of you. "The idea of the pen to the screen, as these interaction models become more and more real, they're not a convenience — they're actually kind of a release," says Panay.

I can see his point. I'm, at best, pretty shitty at Photoshop, but using the photo-editing software on the Surface Studio with a pen and the Surface Dial (a kind of rotating hockey puck that you can use to zoom in and out, or switch pens/tools), the results were immediately noticeable. Trying to carefully select a bit of a photo to mask, normally a painstaking task, was easy. It was almost fun.
Apple will roll out its new line of computers tomorrow, and along with it (probably) a new iMac. It's highly unlikely the iMac will be a touch screen — if you want to draw directly on an image and use a Mac, you'll either need to use an iPad Pro or something like this (very pricey) Wacom Cintiq 27QHD tablet.
Panay believes Studio's power to let you watch your pen sketch something right on the screen will be able to lure some Apple users away. "Switching is not trivial," says Panay. "Do I believe there's enough value in the product to make them switch? My belief is absolutely. It's something so innate and it makes sense — so I don't need to relearn everything — and it does everything I need it to do. It replaces all these devices. It's a piece of a paper and I have pen. It's something I did when I was 12."