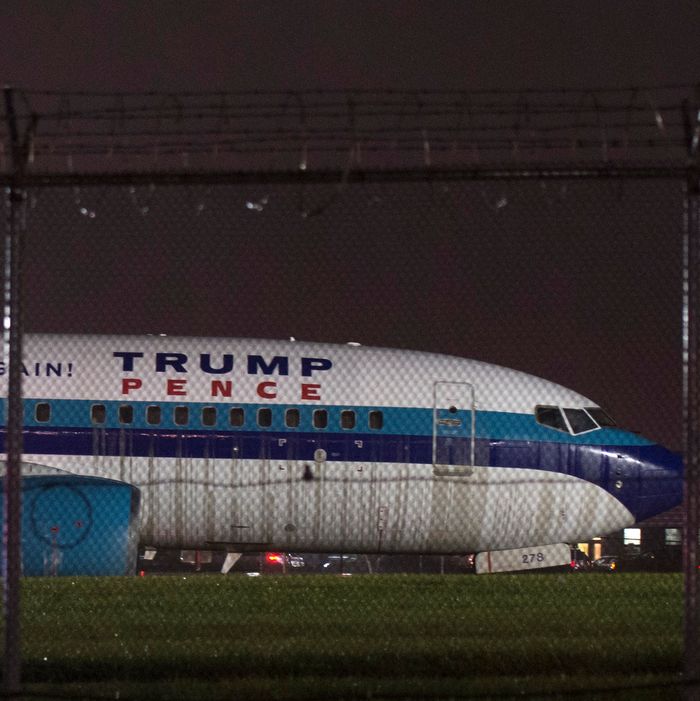 Pence's plane sits on the runway at La Guardia.
Photo: DON EMMERT/AFP/Getty Images
A plane carrying Republican vice-presidential nominee Mike Pence skidded off the runway at La Guardia Airport on Thursday night during a rainstorm. In addition to the Indiana governor, there were 36 people and eight crew members onboard when the plane touched down at 7:25 p.m. No injures have been reported.
Before taking off in Iowa, Pence said the flight was delayed owing to conditions in New York.
Passengers told the New York Post that the Boeing 737 Eastern Airlines charter made a rough impact upon landing, and skidded off the runway as the pilot slammed on the brakes. They reported smelling burning rubber before the plane came to a stop near a fence.
Drivers on Grand Central Parkway said they felt the plane was coming in too fast, and were worried that it would hit the highway. "It was too fast, I thought it might break this thing [the fence] and it would come right on the parkway," said driver Muhammad Jilani. "But thank God it stopped right there. Oh my god, it was scary. Very scary."
Journalists on the plane said Pence was calm, and came back to make sure everyone was okay. "We can see mud on the front windows," he told reporters. The governor's wife, daughter, and several campaign aides were on the flight.
Several reporters on the plane pointed out that the plane damaged the runway after impact. That's actually a safety feature, as the Federal Aviation Administration explained in a statement: "A crushable concrete runway safety technology called an Engineered Material Arresting System stopped the plane."
The Port Authority said the runways at La Guardia were shut down after a plane "overshot" the runway, but the airport was running again by 9:30 p.m.
Port Authority executive director Patrick Foye said the National Transportation Safety Board "will take control of the investigation. The aircraft will remain where it is until the NTSB releases it." Foye said he would not speculate on what caused the accident.
Pence was spotted talking with emergency responders after getting off the plane. He skipped a fundraiser at Trump Tower that he was scheduled to attend, but he called in from his hotel.
Pence spoke to his running mate shortly after the landing. Donald Trump reported that everyone was okay while speaking at a fundraiser in Geneva, Ohio. "The plane skidded off the runway and was pretty close to grave, grave danger," Trump said. "He got out. Everybody's fine," Trump added. "But what a great decision it was to get Mike Pence. What a great guy he is."
Hillary Clinton tweeted that she was happy to hear no one was injured: