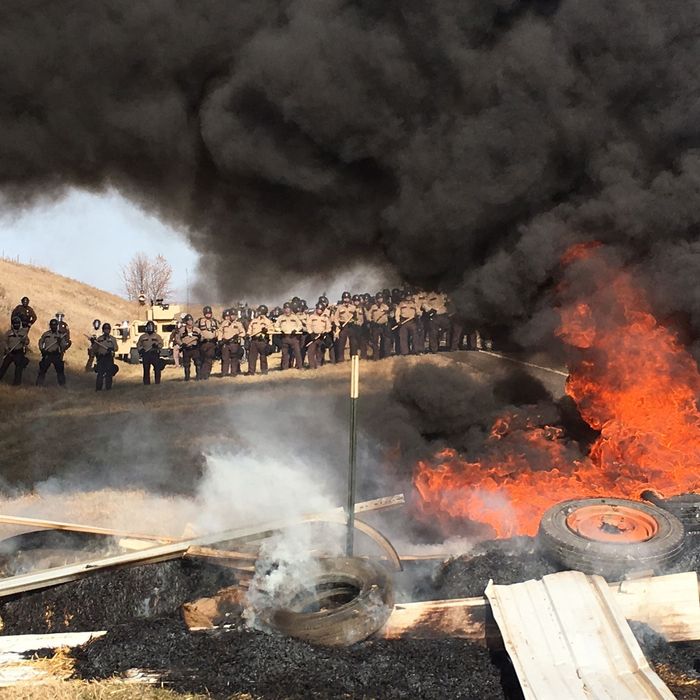 Tires burn as armed soldiers and law enforcement officers stand in formation on Thursday, October 27, 2016, to force Dakota Access pipeline protesters off private land where they had camped to block construction.
Photo: Mike McCleary/AP
Police and protesters clashed Thursday into Friday as the standoff over the North Dakota Access Pipeline intensified. At least 141 demonstrators were arrested, and police pushed out hundreds more from a camp where Native Americans and environmental activists have been staging their fight against the $3.7 billion oil-pipeline project that protesters say is being built on the sacred tribal lands of the Standing Rock Sioux and threatens the water supply.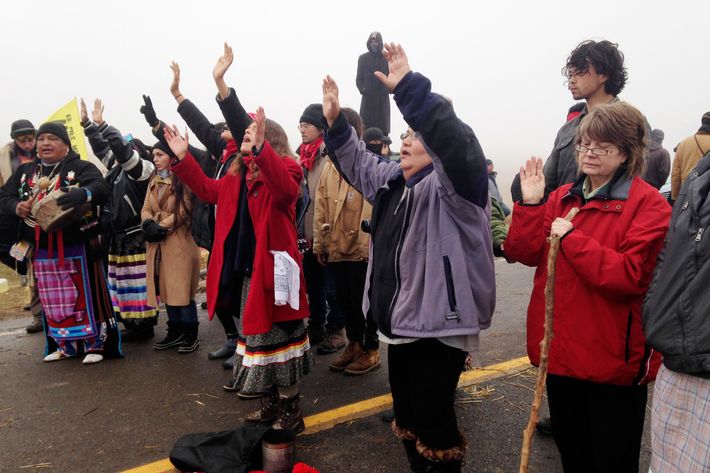 Morton County law enforcement wore riot gear and reportedly fired pepper spray, bean bags, and rubber bullets on protesters. Police also deployed high-pitched sirens. They staged the operation from the ground, pulling activists off the camp in armored vehicles and surveilling in planes and helicopters from above, reports NBC News. Police cleared roadways and managed to evict about 250 activists from their camp site, which authorities say was set up on private property belonging to the pipeline's company — which is forging ahead with construction despite the intense opposition. The protesters have now reportedly been booted back to an encampment, set up in April by the Standing Rock Sioux, the first to begin challenging the 1,172 mile infrastructure project that will deliver fracked oil from North Dakota to a refinery in Illinois.
Protesters reportedly refused to stand down, however. Officials say activists, some reportedly mounted on horseback, flung debris and Molotov cocktails at officers. They set fire to pipeline equipment and on the sides of roadways. Many were apprehended and charged with conspiracy to endanger by fire or explosion, or rioting, reports Reuters.
One woman also allegedly fired three shots at police officers with a revolver. No one was injured. Another man was reportedly shot in the hand during an incident that allegedly involved a security agent with Dakota Access LLC — the company that's constructing the pipeline. According to Mother Jones, an armed man entered the protesters' camp and was chased away in his car by some of the activists:
Tribal members and their supporters jumped into two cars and chased the Chevy Silverado in the direction of a small reservoir and crossing called Backwater Bridge. The two cars forced the Silverado off the road, according to Dallas Goldtooth, an organizer for the Indigenous Environmental Network. The driver then got out of his car, brandishing an AR-15-style rifle and a 9mm pistol, says another witness, Jennifer Owyhee. He allegedly pointed the rifle at the head of one of his pursuers, according to witnesses.
The man allegedly refused to drop his weapon, and at some point shots were fired. It appears that the security agent himself was injured, likely in a scuffle with protesters. Security guards for the Dakota Access project previously used dogs to attack protesters; an investigation by the Morton County sheriff revealed that the company's alleged dog handlers weren't licensed in the state.
North Dakota governor Jack Dalrymple had also mobilized the National Guard to try to end the protests, reports CBS News. "We all need to be very grateful that to the best of my knowledge we had no serious injuries," Dalrymple said. "Hopefully, we have persuaded these protesters that our state highways and county highways and private property is not the place to carry out a peaceful protest."
The Standing Rock Sioux tribe is now calling for the Department of Justice to investigate, specifically on how local law enforcement is handling the protesters. Dave Archambault II, chairman of the Standing Rock Sioux tribe, also urged members and activists to protest peacefully. "Any act of violence hurts our cause and is not welcome here," he said.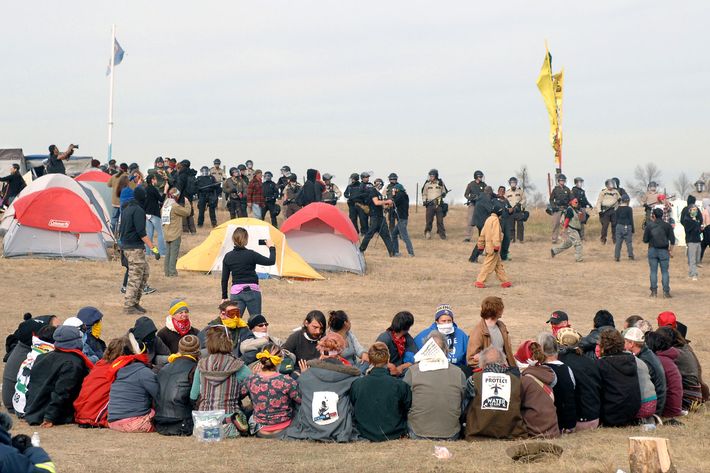 According to the Guardian, police have made over 250 arrests since the protests began gaining in strength late this summer, including the high-profile arrests of journalist Amy Goodman and actress Shailene Woodley.
Still, the state appears ready to move ahead with the project, as does its operator, Energy Transfer Partners, which maintains the pipeline is safe. (GOP presidential candidate Donald Trump is reportedly an investor, and will own a stake of the pipeline once completed.) The Department of Justice, the Department of Interior, and the U.S. Army asked the company to voluntarily halt work in September, even as a federal judge rejected the Standing Rock Sioux's tribe attempts to get an injunction on construction.