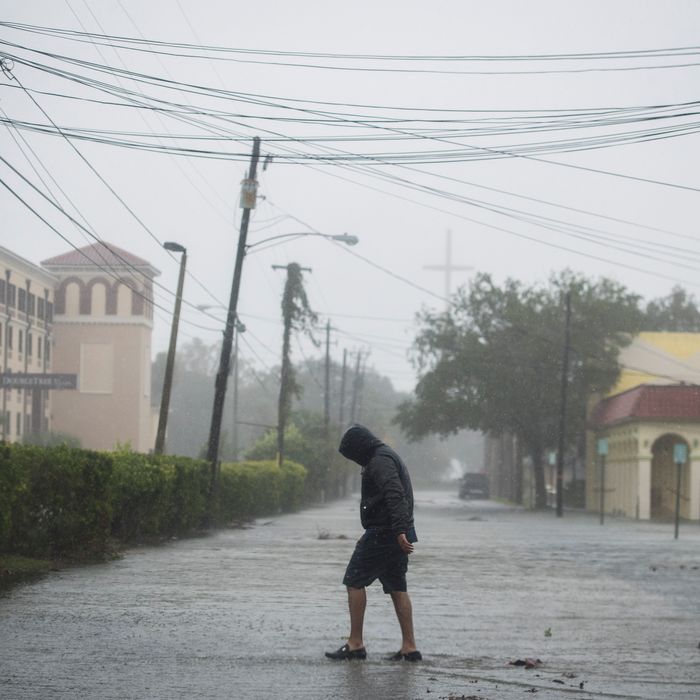 A man searches for food in Southern Florida.
Photo: The Washington Post/The Washington Post/Getty Images
Even as Hurricane Matthew heads out to sea and loses its hurricane designation — it was downgraded to a post-tropical cyclone on Sunday — flooding and widespread devastation remain in North Carolina.
So far, 17 people have lost their lives in the United States — seven people have been killed in North Carolina, four in Florida, three in Georgia, and three in South Carolina — but North Carolina Governor Pat McCrory said that with water levels still rising along with the number of missing people, he expects the death toll to go even higher.
Matthew, the most powerful Atlantic storm since 2007, made landfall in the United States after tearing through the Caribbean, killing more than 900 people in Haiti alone.
Even though Matthew was downgraded, it isn't necessarily any less destructive. The distinction of post-tropical cyclone refers to the structure of the storm; the winds are still as strong as they were when Matthew was a full-blown hurricane.
As of the weekend, President Obama had declared states of emergency in Florida, Georgia, South Carolina, and North Carolina. Coastal communities in North Carolina have been evacuated, including the entire town of Princeville — population 2,000 — the oldest town in the U.S. incorporated by African-Americans.
Multiple dams in the state have been breached and rescue teams across the Southeast continue to work tirelessly, with 701 people rescued so far in North Carolina alone.