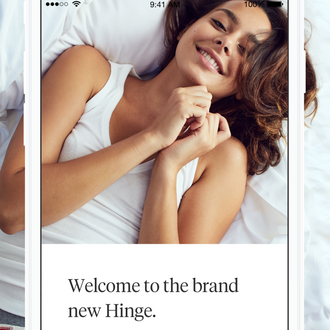 In September 2015, Vanity Fair ran a Nancy Jo Sales piece entitled "Tinder and the Dawn of the 'Dating Apocalypse.'" In it, Sales spent evenings trailing young people in their natural habitats (bars), getting a sense of what the dating scene is like these days. (Read: Heavily gamified.) And while Tinder took the brunt of the hits (and subsequently railed against Sales on Twitter in a hilarious tweet storm), dating app Hinge (an app that connects people based on their mutual Facebook friends) was also name-checked in the piece, and decided to make some changes.
Now, a little over a year later, Hinge is rolling out an entirely redesigned app. On the new Hinge, users will no longer swipe left or right on anything; the swiping element has been completely eliminated. "70% of our users are looking for something more serious than free swiping apps offer," Karen Fein, Hinge's vice-president of marketing, told Select All of the research that went into the redesign. "We're learning people are spending so much more time swiping than messaging on these apps and the majority of people can't remember the first name of their last match. We want to deliver a more serious experience."
Instead of swiping, Hinge users will now open the app and be directed to a messaging screen that will show messages and notifications from "people who you've spoken with or people who have expressed interest in you." Fein described the new Hinge profiles as "Instagram for dating." Users will be asked to share photos, likes, and other personal elements on the app to help give users a better overall sense of them. "If you're on someone's profile, scroll through to see different stories, photos captions, and experiences. If you find one you like, you can 'heart' that element and a message bar will pop out where you can say something about that specific element. Press send and that person will receive that inbound interest and can decide whether they want to connect and start chatting with you." Unlike other dating apps in which both people have to swipe right, on Hinge you'll now be notified anytime somebody expresses an interest in you.
"We're finding that these kinds of connections convos lead to seven times as many phone numbers exchanged," Fein said. But this does come at a cost. While Hinge, like its many swipe-enabled competitors, used to be a free app, the new version will run users $7 a month. (If you join when the app launches today, you'll automatically get a free three-month trial.) "We recognize this isn't for everyone," Fein explained of the new fee. "Maybe these people aren't interested in paying $50 for match.com, but are looking for the same effect of a curated community invested in finding something real. That's Hinge." Fein said they believe the new cost might shift the average age of the app's users; right now that age is 27, but Hinge anticipates that demographic could look more like 29 to 33 in the coming months.
"In many ways it's like a match.com for the next generation. It's not this anonymous free swiping app anymore," Fein said. "If you're interested in someone, you're just going to have to tell them. Be a little vulnerable and tell them."