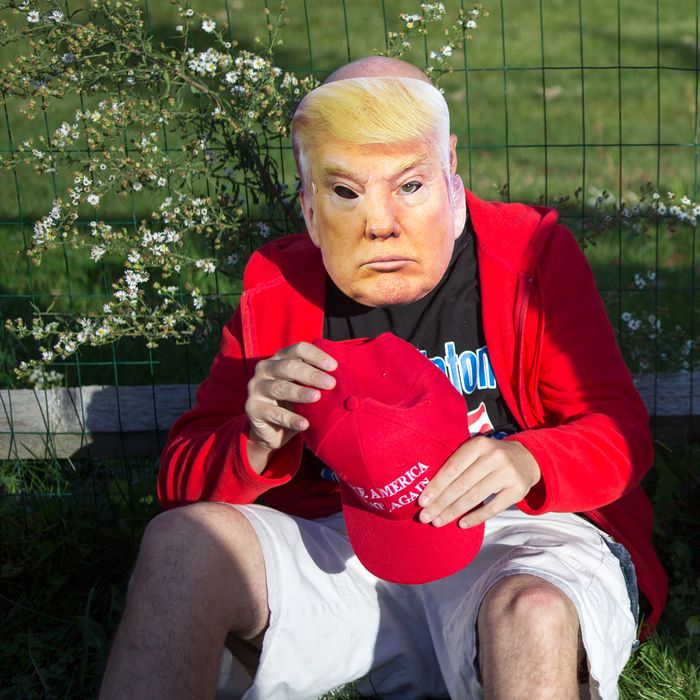 A pair of Trump supporters sitting outside one of the candidate's rallies in Pennsylvania on Friday.
Photo: Jessica Kourkounis/Getty Images
Hillary Clinton has jumped to a 12-point lead in a new ABC News poll of likely voters that was released on Sunday, boosted by widespread disapproval of opponent Donald Trump, marking an eight-point improvement in her four-way-race standing from the ABC News/Washington Post poll on October 13. It's the first live-caller national poll conducted since the third and final debate, and it found that 69 percent of likely voters disapprove of Trump's response to the recent allegations of sexual misconduct made by numerous women. Among the respondents, some women who had previously given Trump the benefit of the doubt over the issue have now ditched the candidate as well. All told, 71 percent of women and 67 percent of men disapprove of Trump's handling of the allegations, according to the poll.
The same poll also indicates that a majority of likely voters, 59 percent, reject Trump's irresponsible notion that the election is somehow rigged; even more disapprove of his refusal to acknowledge whether or not he would accept the Election Day results. In addition, Clinton has gained 12 points among non-college-educated white women since mid-October; she now has a 62-30 percent lead among college-educated white women, as well as a three-point overall lead among men.
The new poll also shows a seven-point drop in the number of registered Republicans who are likely to vote on Election Day, which suggests the GOP's preexisting disadvantage when it comes to driving voters to the polls is only getting worse.

Furthermore, a new CBS News/YouGov poll, conducted October 20–21, found that Trump's lead over Clinton in the nation's largest red state, Texas, is down to only three points, which is within the poll's margin of error. It's the third consecutive Texas poll that shows Trump with a lead of four points or less. It also shows that the majority of Trump's support is coming from Texans over the age of 45, and that he's losing by at least eight points with those under 45. Not surprisingly, Clinton is shown crushing Trump among Hispanic Texans, 61 to 31 percent.
In a new election update from FiveThirtyEight, Nate Silver goes through a bunch of other bad numbers for Trump and the Republicans — like how Democrats are either matching or outpacing their 2012 numbers in Nevada's two largest counties, which may bode well not only for Clinton, but also for Democratic Senate candidate Catherine Cortez Masto. Silver's in-moment conclusion hinges on the likelihood of depressed GOP turnout because of Trump:
The nightmare scenario for the GOP is that high-information Republican voters, seeing Trump imploding and not necessarily having been happy with him as their nominee in the first place, feel free to cast a protest vote at the top of the ticket. Meanwhile, lower-information Republican voters don't turn out at all, given that Trump's rigging rhetoric could suppress their vote and that Republicans don't have the field operation to pull them back in. That's how you could get a Clinton landslide like the one the ABC News poll describes, along with a Democratic Senate and possibly even — although it's a reach — a Democratic House.

That isn't the only scenario in play, but it's an increasing possibility. Overall, Clinton's chances of winning the presidency are 87 percent according to our polls-only model and 85 percent according to polls-plus.

The New York Times adds that, with just over two weeks to go before Election Day, and factoring in today's polls, Clinton maintains a 93 percent chance of winning. And, according to the analyses of both the Times and FiveThirtyEight, Democrats have at least a 68 percent chance of winning back the Senate.