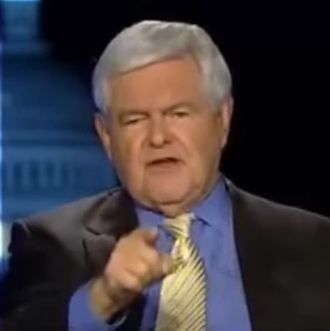 Gingrich, incensed by Kelly's reliance on facts.
Donald Trump surrogates certainly have a knack for undermining their nominee. Days after Trump further repelled suburban women with his "nasty woman" remark, Newt Gingrich unloaded on Megyn Kelly during an appearance on her Fox News show when she acknowledged the reality that multiple women have accused Trump of sexual assault.
Kelly kicked off the interview by asking the former House Speaker about predictions that Trump will lose by such big margins that the Republicans will lose the Senate. "The next two weeks are a contest of two parallel universes," Gingrich said, rattling off a number of points meant to challenge the overwhelming consensus that Hillary Clinton is ahead.
"Republicans are actually out-voting Democrats in Florida, they're out-voting Democrats in Pennsylvania," he insisted, though Politico reports Florida Democrats are poised to overtake Republicans in pre–Election Day ballots as early as Wednesday, and Pennsylvania does not have early voting.
Gingrich has been a frequent guest on Sean Hannity's Fox News show recently, so he's become accustomed to presenting the view from Trump's alternate reality. (For example, he told Hannity that the second debate was an "enormous" victory for Trump, particularly the part where he congratulated himself for not mentioning Bill Clinton's affairs.) However, Kelly pressed Gingrich on why he refused to accept the findings from various nonpartisan outlets that Trump is behind. "You tell me whether that's all made up," she said.
Kelly then recapped how Trump's campaign collapsed in recent weeks despite Clinton's both literal and figurative stumbles. As Gingrich tried to explain that Trump was merely a victim of media bias, Kelly interjected, "If Trump is a sexual predator, that is … " "He's not a sexual predator. You can't say that. You cannot defend that statement," Gingrich shot back, pointing his finger at Kelly. He continued:
Now, I'm sick and tired of people like you using language that's inflammatory that's not true! … When you use the words, you took a position. And I think it's very unfair of you to do that, Megyn! I think that is exactly the bias that people are upset by.
"Your defensiveness on this may speak volumes, sir," Kelly responded, pointing out that she said "if" Trump assaulted women. "As a media story, we don't get to say that ten women are lying. We have to cover that story, sir," she added.
Gingrich then falsely accused Kelly of failing to cover WikiLeaks revelations about Hillary Clinton. "I mean, you want to go back through the tapes of your show recently, you are fascinated with sex, and you don't care about public policy," he said.
"Me, really?" Kelly responded, chuckling. As she insisted that she's only "fascinated by the protection of women," and who we're putting in the Oval Office, Gingrich pivoted to Bill Clinton.
"I just want to hear you use the words. I want to hear you use the words 'Bill Clinton, sexual predator.' I dare you," Gingrich said. "Say 'Bill Clinton, sexual predator.'"
Kelly said she has covered the allegations against Bill Clinton, and people are less interested "in the deeds of Hillary Clinton's husband than they are in the deeds of the man who asks us to make him president, Donald Trump. We're going to have to leave it at that, and you can take your anger issues and spend some time working on them, Mr. Speaker. Thanks for being here."
After having a meltdown on live TV, most people would hope no one saw it. However, as Gingrich explained, he's functioning in a parallel universe:
And while most campaigns would try to put distance between the candidate and his wayward surrogate, Trump social-media director Dan Scavino decided to escalate the situation:
Trump himself has yet to weigh in, but presumably an attack on Kelly is forthcoming. He got into a feud with the Fox News host shortly after launching his campaign, so closing things out with another misogynistic spat would be a fitting bookend.