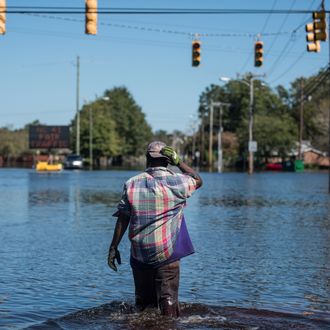 Chris Moore walks down Martin Luther King Boulevard on October 12, 2016, in Lumberton, North Carolina.
Photo: Sean Rayford/Getty Images
At least 20 people have died in North Carolina in the wake of Hurricane Matthew, bringing the U.S. death toll from the storm up to at least 36. In towns like Greenville and Goldsboro and Rocky Mount, in the eastern part of North Carolina, rivers have crested, or are about to, spilling water into streets and under front doors. The deluge has submerged homes and businesses and entire blocks. According to CBS News, some estimates put the cost of the damage as high as $10 billion, though the scope of the damage can't be fully grasped until the floodwaters recede later this weekend, or even early next week.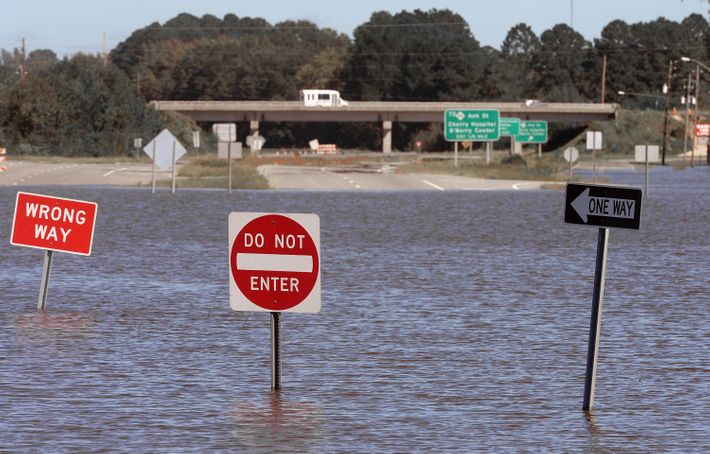 About 2,000 people have had to be rescued so far. More than 75,000 North Carolinians are still without power, though the sun has shone for days. In Goldsboro, the Fire Department rescued 130 people as the Neuse River rose to a record 30 feet — about ten feet higher than in 1999, during record flooding from Hurricane Floyd. Antoine Robinson, a local resident who took refuge in a Red Cross shelter with scores of others, told the Raleigh News & Observer, his home was wrecked: "Water came in and didn't stop."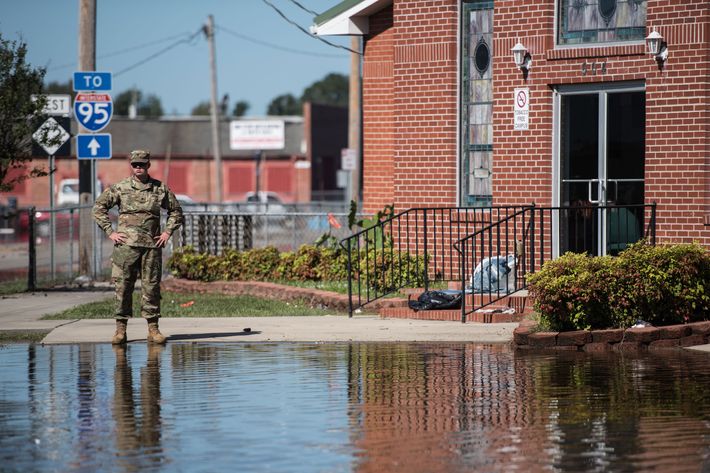 Princeville sits along the Tar River, which reached major flood stage Wednesday and could stay there until Saturday. The small town was devastated by Hurricane Floyd in 1999, per the Los Angeles Times. Some of its residents will have to rebuild a second time — if they stay.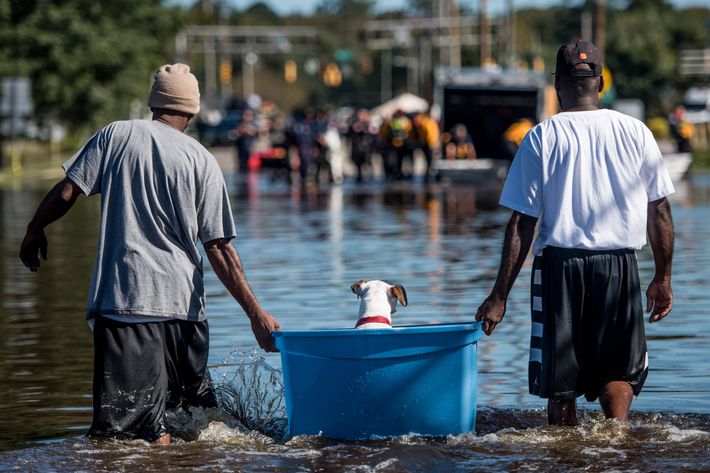 Lumberton, a struggling town in southeastern North Carolina, was among the hardest hit. The floodwaters have started to recede, but not before rescue teams had to save at least 600 people earlier this week and teams were forced to evacuate critical-care patients from the area hospital on Wednesday. According to the News & Observer, residents lack potable drinking water after the inundation of the city's water-treatment plant.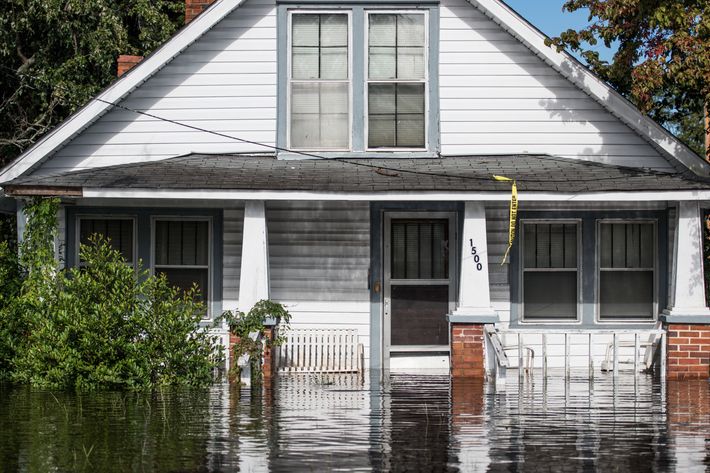 The tension and stress played out on Monday in Lumberton when a 56-year-old man whom police identified as Dennis Hunt was involved in a fatal confrontation with state troopers. Officials allege that Hunt was trying to drive through floodwaters in a Humvee, when he became "hostile towards the officers" and brandished a gun. Officers fired on the man, who later died from the gunshots. Authorities are investigating the shooting and identified the highway patrol sergeant who reportedly shot Hunt as J. F. Hinson, a 13-year veteran. Hinson has been placed on administrative leave.
The Carolinas are also about to get some heavy surf and serious rip currents now that another hurricane is slamming Bermuda. Hurricane Nicole is a powerful category 3 storm, packing winds of up to 120 miles per hour. According to the Washington Post's Capital Weather Gang, Nicole has tied the record for the two strongest hurricanes to hit the island. It's also apparently pretty rare for a storm of this strength to make landfall on Bermuda:
Fierce winds and torrential rains began pounding the island Wednesday.
Between 11 a.m. and noon, the eye wall is passing over Bermuda, which means parts of the island are experiencing the literal calm before the part two of the storm.
Storm surges of up to eight feet are expected, as are some isolated tornadoes. These hurricane siblings, Matthew and Nicole, are the first two major Atlantic hurricanes — reaching category 3 status or higher — that have formed in October. Matthew, which briefly reached a category 5 as it churned toward the Caribbean, has killed close to 1,000, mostly in Haiti. Nicole was downgraded from a category 4 Wednesday night, but remains "dangerous," per the National Hurricane Center.
"This is a serious storm, and it's living up to the weather predictions," Bermuda's national security minister, Jeff Baron, warned. "The worst is not over."