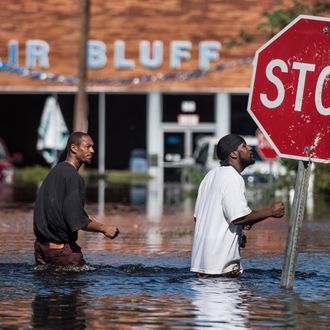 Photo: Sean Rayford/Getty Images
Rivers are overflowing in North Carolina, the rising water turning streets and sidewalks into streams as officials urge residents to flee to higher ground. This is what Hurricane Matthew left in its wake in North Carolina. The category 1 storm clipped the eastern region of the state after pummeling the coastlines of Florida and Georgia, and making landfall in South Carolina. In North Carolina, the system dumped up to 18 inches of rain in some places. The torrential rain fell on already saturated ground, creating surging water levels in inland rivers and streams.
And the worst is not over. The flooding threat persists until at least Friday, and some of the rivers have not yet crested."If we say the water's coming and we say do not drive through that water, we mean it," North Carolina Governor Pat McCrory warned Tuesday. "Do not go through water. We've had over 10 people killed as a result of that. We are not messing around, and we do not want to put people at risk to save you once you've made that decision."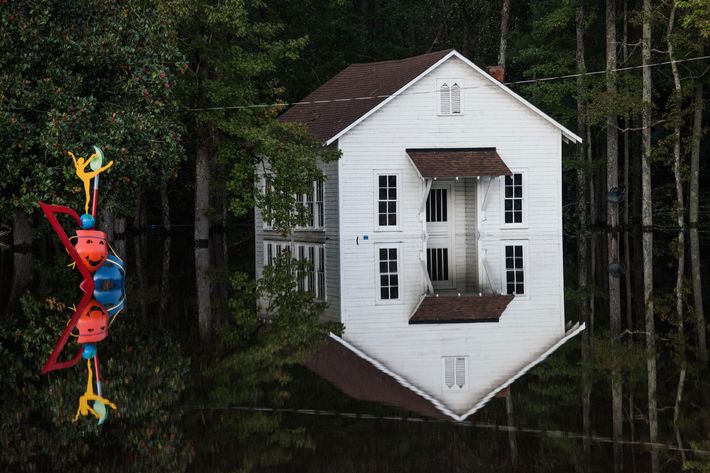 McCrory said Tuesday that at least 17 people have been killed in North Carolina in Matthew's aftermath, out of the more than 33 deaths related to the storm in southeastern United States.
At least three people are missing in the North Carolina's flood zone, and more than 4,000 are bedding down in emergency shelters. Curfews are in effect across the state. Thousands are without power.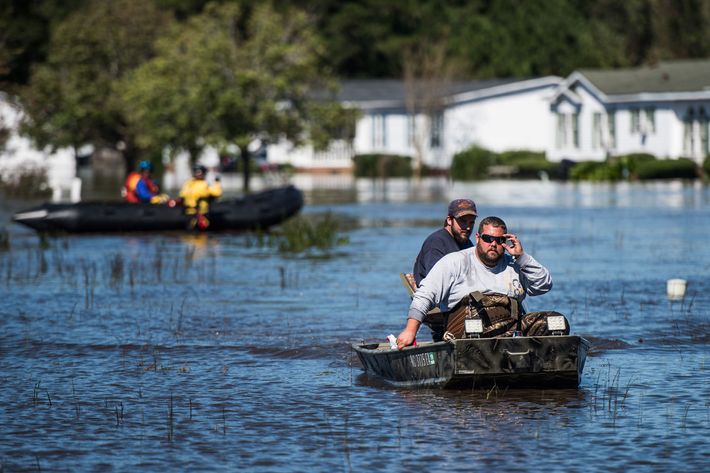 More than 2,000 people needed to be rescued by boat or air, and officials are still urging people to evacuate areas where rivers are cresting and water is threatening to overwhelm levees. The Tar River is threatening the area near Greenville, where officials warned that every bridge would be unusable by Wednesday. Water has also deluged the city's airport.
The Neuse River, near Goldsboro, about 50 miles from Raleigh, crested at record levels — and will stay there for most of the week. Water subsumed at least 131 houses.
In another area, near Fort Bragg, the Woodlake Dam threatened a breach. "Get out," McCrory demanded of residents who refused to evacuate. "Get out now."
The town of Lumberton, in rural Robeson County, was one of the hardest hit, where the Lumber River crested to four feet above its record level. The natural disaster has sharpened tensions in the town — which has no power, and where food and supplies are becoming scarce. Officials said at least one person was killed in a police-involved shooting after becoming hostile with officers after trying to drive a Humvee through a flood-ravaged area. The identity of the victim has not been released, though early reports suggest he was armed. Protests had racked Charlotte, North Carolina, after cops fatally shot a black man, Keith Lamont Scott, just weeks before, prompting a emergency declaration from the governor.
President Obama has declared at least 31 counties federal disaster zones, which frees up FEMA money. Officials fear that the flooding could top those of Hurricane Floyd in 1999, which left more than 50 dead. In total, Matthew killed hundreds on its march through the Caribbean to the United States. At least 1,000 have died in Haiti alone, which hit as a devastating category 4 hurricane last week. The impoverished island is facing an ongoing and catastrophic humanitarian crisis as hundreds of thousands lack access to adequate food or potable water.