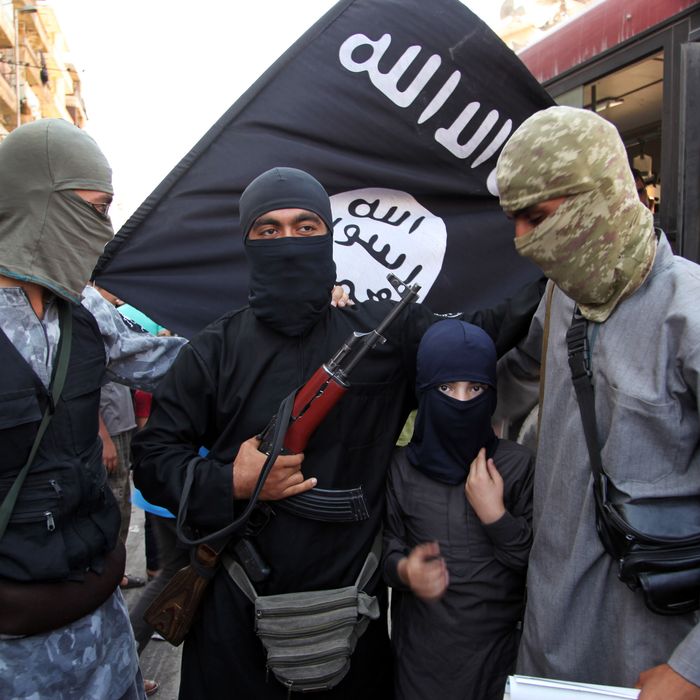 ISIS fighters.
Photo: Medyan Dairieh/Corbis
A 24-year-old New York City college student died fighting for ISIS last year, federal prosecutors revealed in court papers this week. Samy Mohammed El-Goarany allegedly told his parents he was headed back to school in Manhattan in January 2015, but instead jetted off to Turkey, where he later crossed over the border into Syria. He was reportedly killed in November 2015; an unknown person contacted a family member and presented them with a photo of a handwritten note that read: "If you're reading this then know that I've been killed in battle and am now with our Lord InshaAllah …We will win this war one day, this war between Iman (Belief) and kufr (Disbelief) between Good and Evil."
The new details came out on Tuesday as federal prosecutors push forward a case against an Arizona man who's been charged with providing material support to ISIS for helping get El-Goarany to Syria to join up with the terrorist group. Ahmed Mohammed el Gammal was arrested in August 2015 and pleaded not guilty to the charges; right now, prosecutors and defense attorneys are arguing over whether evidence that involves the deceased college student can be submitted for el Gammal's trial, scheduled for December.
The big piece of evidence they're arguing over is a YouTube video, one that El-Goarany allegedly recorded in September 2015, a month after el Gammal was arrested. According to prosecutors, in that short clip, El-Goarany claims that he came to Syria and joined the Islamic State "out of his own will." "It was my own choice, and it was out of my own resources," El-Goarany explains.
He adds: "And nobody helped me along the way to get here — including Ahmed Mohammed el Gammal, in America. And I'm making this video just to let the authorities know this. This is my statement, and use it however you wish."
Prosecutors very much wish to use this against el Gammal, saying it proves El-Goarany went to Syria, and suggests an attempt to cover up an ISIS recruiting network. El Gammal's defense attorneys are arguing that the video constitutes hearsay, as El-Goarany is no longer able to explain how no one helped him travel to Syria.