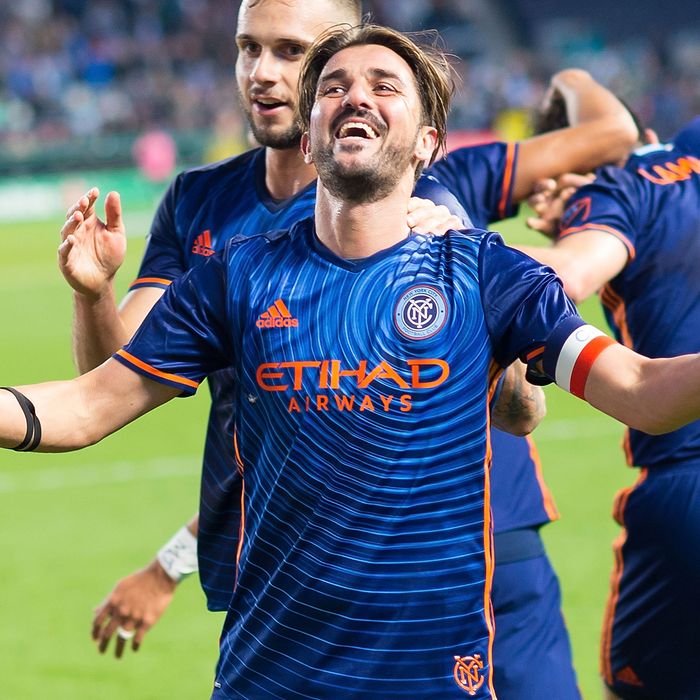 Photo: Michael Stewart/Getty Images
Last Sunday night, the New York City Football Club routed the Columbus Crew 4-1 in front of 30,000 fans at Yankee Stadium, completing a dramatic turnaround for the second-year club. After an 8th-place finish in the Eastern Conference last year, NYCFC finished 2016 only three points out of first. That was good enough to secure a first-round bye in the MLS playoffs, and this Sunday, the club begins a home-and-home series with Toronto FC in the Eastern Conference semifinals.
David Villa, the 34-year-old Spaniard and team captain, predicted this. After last season's disappointing finish, he stood in the middle of Yankee Stadium and apologized for the team's ineptitude, but promised to return in 2016 and "bring success to this city." That mission is not yet accomplished. An impressive regular season is nice, but advancing in the playoffs is vital for a team with the biggest names in the MLS and the league's second-largest payroll.
"People judge you by what you won," head coach Patrick Vieira said upon his hiring in January. "We want to win and we want to win trophies." So far, NYCFC hasn't won anything.
If that changes, the longtime Arsenal man will get much of the credit. When Vieira was brought in earlier this year to replace Jason Kreis, there were no shortage of doubters. Vieira wasn't just a rookie head coach, but he's foreign-born, which put him at a disadvantage according to some who've been in a similar position.
If it did, it didn't show. Vieira found success in the Bronx with an intense training schedule, a meticulous attention to detail, and a unique style of build-up play that made up for his team's defensive deficiencies but still allowed it to attack. The result was a league-leading 62 goals.
Villa was responsible for more than a third of those. The former Barcelona and Spanish National Team striker scored 23 times this season, second most in the league. As one of the growing number of European stars playing out his final years in MLS, this is what was expected from Villa. To some, it's even more than expected. After more than two years away from the Spanish National Team, Villa is being considered for his first call up since the 2014 World Cup.
NYCFC's other European legends, Englishman Frank Lampard and hirsute Italian Andrea Pirlo, won't be hearing from their national teams anytime soon, but they've both been integral parts of the team's success. Lampard's 12 goals were 11th best in MLS and Pirlo's 11 assists put him behind only seven other players.
On Sunday, when Vieira leads his highly paid squad of international superstars to Toronto, they'll run up against the only team in MLS with more money on the books. Toronto FC is home to the reigning MLS MVP, Sebastian Giovinco, and two USMNT mainstays, Jozy Altidore and Michael Bradley. Looking back at the two regular-season matches between the teams doesn't reveal much of an edge for either squad. Both ended in a draw. But if one thing is clear about this series between two of the best attacking teams in MLS, it's that there will be goals.
If NYCFC is able to fend off the firepower of Toronto FC, it will set up a likely matchup with the rival Red Bulls, who begin a home-and-home with the Montreal Impact on Sunday. The Red Bulls were the only team to finish above NYCFC in the Eastern Conference standings this season and they finished the season on a tear. Led by Golden Boot winner Bradley Wright-Phillips, the Red Bulls haven't lost a match since July 3. Their opponent? NYCFC.