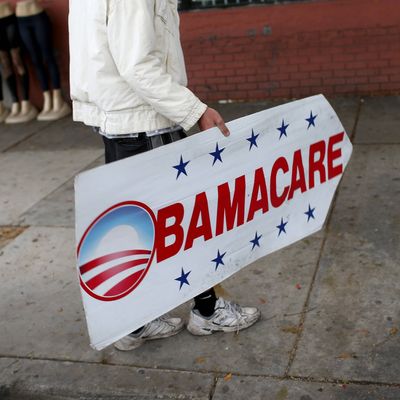 Photo: Joe Raedle/Getty Images
This fall, individuals seeking health insurance through the Affordable Care Act are going to face fewer options and higher prices. Weeks after several large insurers reduced their participation in the program, the U.S. Department of Health and Human Services announced Monday that premiums for mid-level health plans sold over the HealthCare.gov website will rise by an average of 25 percent next year, easily the biggest price hike in the program's history. In 2016, premiums on such plans rose by only 7.2 percent on average.
However, the changes in the national average obscure profound regional variations — in Arizona, the benchmark plan's average premium will rise 116 percent next year; in Indiana, it will fall 3 percent.
The weight of the rate hikes will fall hardest on the program's most prosperous and/or least attentive consumers: 85 percent of Obamacare enrollees qualify for subsidies. According to HHS, 77 percent of active customers who browse the exchanges for the cheapest plan for which they're qualified should be able to find coverage for $100 a month or less. However, those who don't actively make a selection will be automatically re-enrolled in their current plan, which may subject them to a sudden price increase.