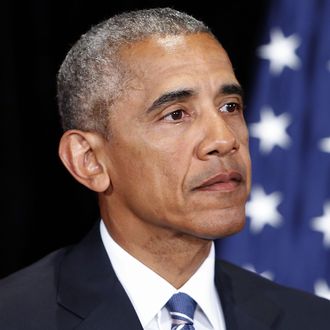 Photo: Lintao Zhang/Getty Images
President Obama commuted the sentences of 98 federal inmates on Thursday, almost all of whom were convicted of nonviolent, narcotics-related crimes. A total of 42 of them had expected to serve the remainder of their lifetimes in prison.
This is just the latest wave of prisoners who will now get to go home early, courtesy of Obama. The president has now granted commutations for a total of 872 prisoners during his entire presidency, which, according to the White House, beats the last 11 presidents combined. This year alone he has shortened the sentences of 688 people — a presidential record.
The inmates whose sentences were commuted on Thursday won't be released immediately; many are expected to go home next year, though some will be freed as late as October 2018. Obama has been exercising his clemency powers this year as part of a larger push for criminal-justice and sentencing reform, particularly against harsh mandatory minimums that disproportionately affect those of low-income or minority backgrounds.