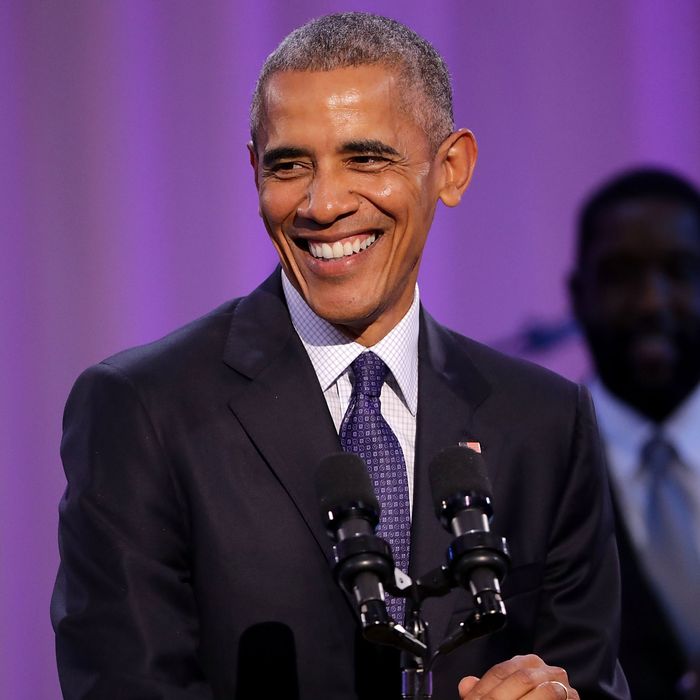 He has a lot to smile about.
Photo: Chip Somodevilla/Getty Images
With less than three weeks before the election, President Obama is making an unprecedented push on behalf of down-ticket Democrats. The president has endorsed more than 150 candidates at the state and local level in 20 states, including a North Carolina Supreme Court candidate.
Each endorsement comes with photo-ops, robo-calls, radio ads featuring the president, and social-media posts from the White House. The first batch of endorsements — in 13 Florida races — came out on Friday but the White House has made it clear that that is only the beginning of a much broader campaign.
Republicans have made considerable gains at the state level during Obama's presidency, and now as the president tries to shore up his legacy — and with anti-Trump sentiment increasingly putting local and state-level elections in play — Obama is looking to undo some of the GOP's recent progress.
The move represents a massive change for Obama, who before this year had not endorsed even a single candidate for state legislatures. According to The Wall Street Journal, in 2008 Obama feared that endorsing too many candidates would "dilute his brand and diminish his outsider appeal."
Now, Obama is even traveling the country in support of down-ballot candidates. On Sunday, he was in Nevada, speaking in support of Catherine Cortez Masto, the Democratic former attorney general who is fighting for Harry Reid's Senate seat.
The endorsements are also the first stage in what Obama hopes to make the focus of his post-presidential era: state-redistricting reform.