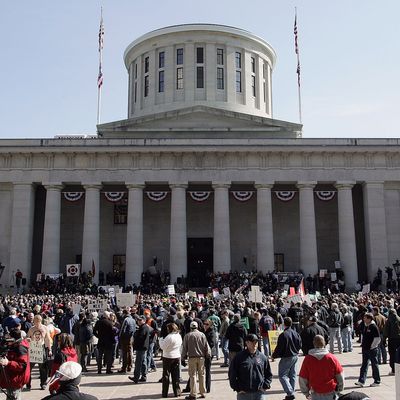 The Ohio state house in Columbus.
Photo: Mike Munden/Getty Images
A U.S. district court ruled on Wednesday that voters who were illegally removed from Ohio's voter rolls may cast provisional ballots in person during early voting or on Election Day.
The court action came after a lawsuit was brought by the ACLU and other plaintiffs, and settles the final of four election-related lawsuits facing Ohio before November.
A federal appellate court ruled last month that Ohio's removal of voters from registration rolls if they hadn't voted in six years was illegal.
At least 846,391 Ohio voter registrations were canceled between 2010 and 2014, according to the U.S. Election Assistance Commission — and that is not counting the 88 counties that did not report all of their voter cancellations.
According to Ohio secretary of State Jon Husted, the practice of removing inactive voters from state rolls is totally nonpartisan and has been going on for decades. While a federal law known as the "Motor Voter" law prohibits states from removing voter registrations for failing to vote, the law does allow states to develop processes for removing voters whose addresses have changed.
In Ohio, voters who hadn't voted for two years or who had officially changed their addresses were sent notices asking them to confirm or update their personal information. If the voter did not respond within four years, their registration could be cancelled.
Wednesday's court ruling made it legal for voters whose registrations had been voided to cast a ballot in this election, either in person during early voting, or in person on Election Day itself — they will not be allowed to cast absentee ballots. Their votes will be provisional, and each voter will have their information checked against their voter registration after the election. If it turns out the voter is still living in the county where they were registered and not in jail, then their vote will be counted.
Voter disenfranchisement has become a hot-button issue this election. Donald Trump has said that he believes the election to be rigged, and from the left, Republican leadership has been accused of trying to suppress voter turnout especially in battleground states and almost always targeting minority voters.