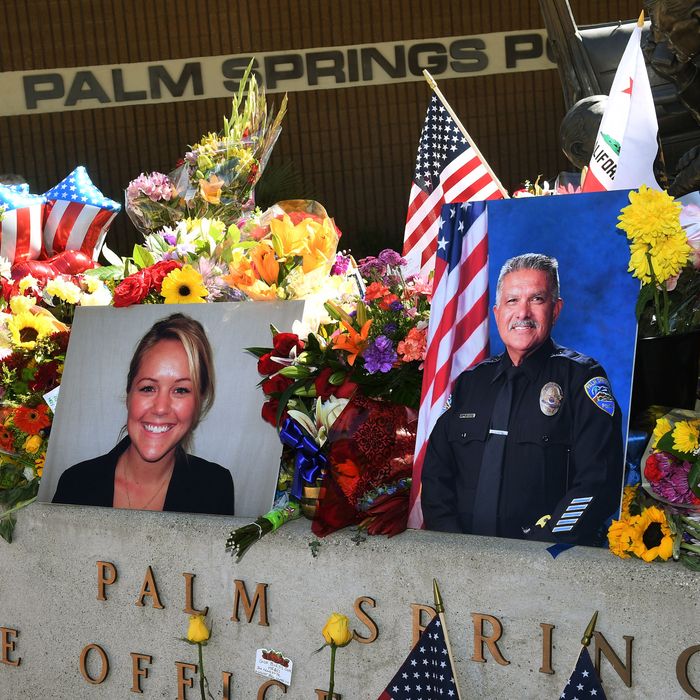 Mourners pay tribute to Palm Springs' slain cops.
Photo: Mark Ralston/AFP/Getty Images
John Felix, 26, was arrested early Sunday morning following the murder of two police officers in Palm Springs, California. Felix, who was apprehended after a long standoff with a SWAT team, was in possession of concealable soft body armor and high-capacity magazines when he was finally arrested.
Jose Vega, 63, and Lesley Zerebny, 27, were responding to a domestic dispute between a man and his son in Palm Springs on Saturday afternoon when the son opened fire, killing them both. A third officer was also shot but suffered non-life-threatening injuries.
Felix's father had to run to a neighbor's house to call police, where he told the neighbor that his son was "crazy," he "has a gun," and he was "ready to shoot all the police."
Vega was a 35-year veteran of the police force and had submitted his paperwork to retire in two months. Zerebny was much newer to the force and had just returned to work after giving birth to a baby girl.
Felix, who is being described as a gang member, was taken alive after a 12-hour standoff with police. He had barricaded himself in his home and continued to fire shots at officers. Police deployed robots and chemical agents to subdue Felix and ultimately took him into custody by using what the Riverside County Sheriff Department referred to as "less lethal ammunitions."
Felix already had a criminal record that included assault with a deadly weapon and fighting with a police officer in 2013 at the very scene where three years later he would kill two other officers. He is being charged with two counts of murder of a police officer and could face the death penalty.