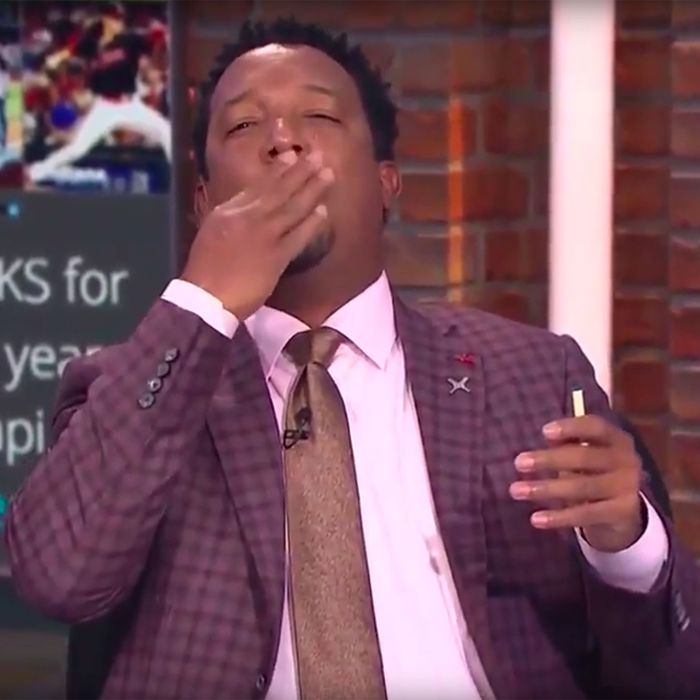 A few years into his second act as a baseball analyst, former Red Sox pitcher Pedro Martinez has emerged as one of the most insightful and entertaining broadcasters in the game. But Monday night he showed that he's still got room to improve.
Following the Indians' completion of a three-game sweep of the Red Sox, Martinez attempted to show Cleveland some respect by doing this:
While the Indians would likely have no issue with this, Native Americans would. Martinez was quickly called out for going "full racist" and "belittling natives," and he apologized shortly thereafter. The timing of Martinez's war cry couldn't have been worse. Officially, Monday was Columbus Day. Unofficially, it was Indigenous Peoples Day. Either way, it was a particularly bad time to stereotype Native Americans as war-hungry savages. But give Martinez credit for his quick apology. The Cleveland Indians have been criticized for a racist logo and demeaning traditions for decades, and the franchise still refuses to part with Chief Wahoo.
Martinez wasn't the only Sox legend to have a bad night Monday. David Ortiz played his last game ever as the Sox were swept out of the playoffs in a series that saw him go 1-9 at the plate. But that indignity didn't tarnish his farewell.
Ortiz walked in his final plate appearance in the bottom of the eighth and was removed for a pinch runner after reaching second on a Hanley Ramirez single. He received a huge ovation on his way to the bench. And then, after the Indians finished celebrating their win, Ortiz returned to salute the Fenway faithful. There were lots of tears.