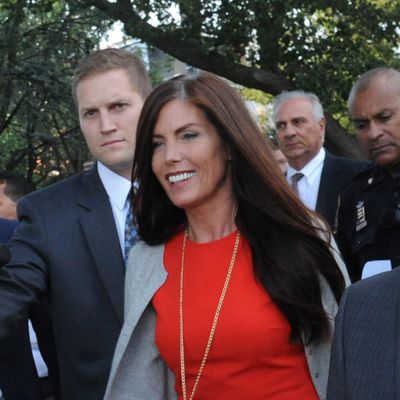 Kathleen Kane at a court date last summer.
Photo: Clem Murray/Philadelphia Inquirer/TNS via Getty Images
A former Democratic rising star in Pennsylvania politics now faces jail time. Kathleen Kane, the state's ex–attorney general who was convicted of perjury and other misdemeanors in August, will serve between 10 and 23 months in prison, a judge ordered Monday. She was also sentenced to eight years' probation for her role in leaking secret grand-jury documents to a reporter to discredit a political rival, and later lying about it.
The judge said the case was "about ego," and doled out a prison term despite Kane's attorneys and her children's pleas for leniency. (She faced up to maximum of 12 to 24 years in prison.) Kane, who was the first female elected to the AG spot, resigned from her post in August, and has been disbarred.
Kane was a political newbie in 2012 when she ran for office, and she gained a reputation for going hard after her political foes, including releasing a trove of somewhat pornographic emails, sent from public employees from state computers that forced the resignation of two Supreme Court justices. But in her first months in office, she also shut down a sting against Democratic politicians in Philadelphia accepting illegal cash payments.
Philly prosecutors took up the case, and convicted at least five officials of corruption. Kane's problems began when she reportedly blamed a former state prosecutor, Frank Fina — who had been in charge of the operation while in office — of seeking to undercut her and serving as a source to the press about the shuttered sting. In what jurors eventually interpreted as an attempt at retaliation, Kane leaked grand-jury documents involving Fina, and then lied about doing so.
Democratic Governor Tom Wolfe appointed first deputy attorney general Bruce Beemer to serve after Kane stepped down. But two candidates — Republican state senator John Rafferty, and Montgomery County commissioner Josh Shapiro, a Democrat — are fighting for the seat ahead of the November 8 election. The two politicians debated Monday, just before Kane's sentenced was handed down.