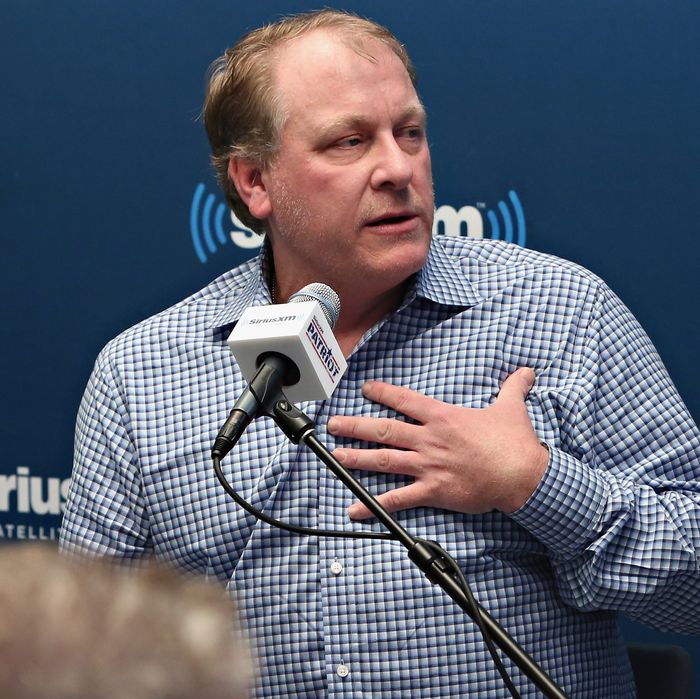 Photo: Cindy Ord/Getty Images for SiriusXM
On Tuesday morning, Curt Schilling announced that he hopes to be Elizabeth Warren's Republican challenger in 2018.
"I've made my decision. I'm going to run," the all-star pitcher and reactionary wing nut told Rhode Island radio station WPRO. "But I haven't talked to Shonda, my wife. And ultimately it's going to come down to how her and I feel this would affect our marriage and our kids."
Shonda, please do not stand between this man and his destiny.
Sure, all the pontificating poindexters of the pundit class will tell you that a Republican who has compared Muslims to Nazis, suggested that Hillary Clinton "should be buried under a jail somewhere," and thinks the theory of evolution is ludicrous doesn't have a very good chance of ousting a popular Democratic incumbent in the state of Massachusetts.

And sure, Schilling has no political experience, and his biggest business venture ended up costing Rhode Island over $70 million.
And, okay, a poll taken last month found Warren beating Schilling 47 to 28 percent, while former governor Bill Weld and lieutenant governor Karyn Polito were right on Warren's heels.
But, by hurting the finances of Rhode Island, didn't Schilling actually increase the Bay State's regional competitiveness? And has Bill Weld ever done more for Massachusetts than Curt Schilling did in game six of the 2004 ALCS?
The haters will say that Schilling is the weakest Republican candidate who could plausibly win a GOP primary in Massachusetts — and that this is the only reason a liberal rag like this one would encourage him to run.
But Schill has never been afraid of the haters.
So, please, Schilling family, give Curt the "run" sign.