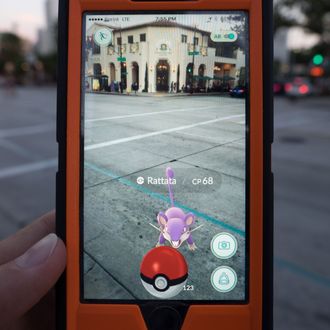 Photo: PG/Bauer-Griffin/GC Images/Getty Images
Pokémon Go might have briefly made the entire American population of teenagers and young adults go insane this summer, but it turns out there were some added benefits to running around town chasing pocket monsters. A new study from Microsoft Research in Redmond, Washington, found that the game was successful in getting people moving around, increasing U.S. activity levels by nearly 150 billion steps in one month.
In case you didn't get sucked into the mania, Pokémon Go players have to walk around in order to play the game. If you don't move around, you won't be able to evolve your monsters or catch new ones. Using data from Bing searches and the Microsoft Band, Microsoft's activity tracker, the team was able to figure out just who was playing the game and how much they were moving around. (The study found that about 1,420 people out of 30,000 Microsoft Band users were playing the game.)
Over the course of a month, these people tracked an average of 1,473 more steps per day, an increase of roughly 25 percent. (Activity numbers were compared to 50,000 other, randomly chosen Microsoft Band users as a control.) The study also found that the activity increase wasn't limited to any one group like women, men, or people of certain ages or weights. I never downloaded the app, but these numbers are almost (almost) enough to make me want to start playing.