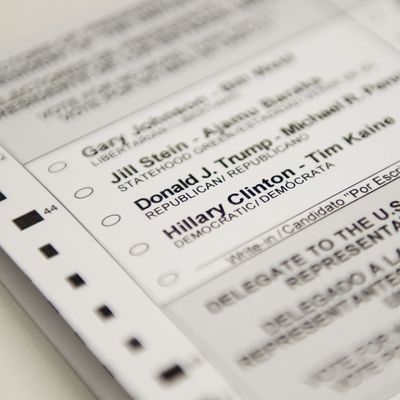 Depending on which polls you consult, Democrats are either surging or in a very tight race.
Photo: Saul Loeb/AFP/Getty Images
The latest batch of national and state polling results has a data point for you, no matter what story you want to tell. If you accept the general (though not universal) consensus that Donald Trump is trailing Hillary Clinton by a significant margin in the presidential race, the polling averages all support that. RealClearPolitics has her ahead by 5 points (46 percent to 41 percent), while HuffPost Pollster has her up 7, at 46-39. But in the latest batch of individual polls, the spread of results is really getting large and weird. An AP/GfK survey released yesterday shows Clinton at 51 percent and leading Trump among likely voters by an astounding 14-point margin. That is on the heels of an ABC News tracking poll that at the beginning of the week had Clinton up 12 points (but shows a 6-point margin). But an IDB/TIPP tracking poll puts Clinton up by just 2 points, and there is also the two-way LAT/USC tracking poll that shows the race tied. So, too, did a Gravis Marketing poll taken just a few days ago. (For what it's worth, RealClearPolitics' Sean Trende describes the overall effect of recent polling as suggesting that the race is tightening slightly, without actually being tight.)
Now, you can just intone the word outliers and dismiss any of these polls you wish. But the fact remains that fairly steady averages disguise some pretty significant variations in public-opinion findings this cycle. It is hard to generalize reasons for these variations, though sampling methods, weighting of samples to reflect assumptions about the shape of the electorate, and likely voter screens could all be factors. They do, however, clearly offer partisans a huge cherry-picking opportunity to reinforce whatever they choose to believe about the trajectory of the contest. And if the handful of national polls showing Trump still in a tight race with Clinton are not enough for his fans, they can all just shout "Brexit! Brexit!" to allude to a recent example of polling error, and/or mutter darkly if somewhat mindlessly about biased or "phony" polls.
State polls are taken less consistently, so in general it is harder to chart trends. They continue to show a battleground-state landscape favoring Hillary Clinton, whose leads in Colorado, New Hampshire, North Carolina, Pennsylvania, Virginia, and Wisconsin are beginning to look formidable. The best state polling news for Trump in the last few days was probably a Bloomberg survey showing him up by 2 points in Florida, and he's still up in the polling averages for Iowa (where recent polling is sparse) and Ohio. Those states are not enough for him to win, of course.
Senate polling continues to show relatively comfortable Democratic leads in Indiana, Illinois, and Wisconsin; a consistent but not that comfortable Republican lead in Florida; and very tight races in Nevada, New Hampshire, North Carolina, and Pennsylvania. This all adds up to pretty good odds Democrats will get the four net seats they need for control if Clinton becomes president.
The House is a different matter. The RealClearPolitics average of polls on the congressional "generic ballot" that is probably the best indicator of a potential "wave" election shows Democrats up by less than 4 points. Thanks to Republican advantages via gerrymandering and superior voter distribution, it is generally assumed that Democrats will need a generic ballot advantage in the high single digits (or higher!) to have a real shot at control of the House. It is interesting that the same AP/GfK poll that gave Clinton the massive 15-point lead in the presidential race showed Democrats with only a 5-point lead in the congressional generic ballot. Team Donkey really does still have its work cut out for it with 12 days left.