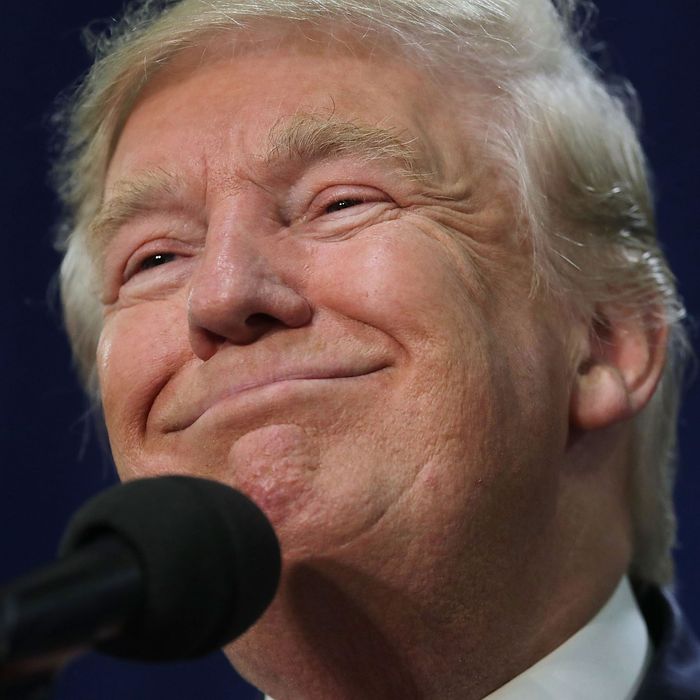 Photo: Chip Somodevilla/Getty Images
Last weekend, a Washington Post/ABC News tracking poll showed Hillary Clinton opening up a 12-point national lead over Donald Trump — the kind of margin that gets pundits writing eulogies for the GOP and Nancy Pelosi dreaming of the Speaker's gavel. At the time, that survey was a pro-Clinton outlier, but the average of all polls on RealClearPolitics still gave the Democratic nominee a comfortable lead of more than 5 points.
One week later, that same WaPo/ABC poll shows Clinton leading Trump by just a skinny digit, a bit below the current RCP average, which has Clinton up by 2.9.
But before liberals rush to stick a few more pins in their James Comey voodoo dolls, it's worth noting that this movement in the race largely preceded the FBI director's baffling bombshell Friday afternoon. The Post already found Clinton's lead dropping to 4 points by the middle of last week, and the surveys that shrunk Clinton's average national advantage were mostly taken before America was reminded of her "damn emails."
By the middle of last week, Trump's gains were already conspicuous enough to catch Nate Silver's notice. At that time, the sources of the mogul's strength appeared to be twofold: Trump had kept a relatively low profile since the final debate and thus had done little to embarrass himself or, more crucially, Republicans who want to vote for lower taxes without feeling gauche. Meanwhile, Gary Johnson had continued to make himself only a marginally less humiliating standard-bearer for the socially moderate, fiscally conservative set.
Thus, by the end of the last week, Trump was gaining as Johnson bled votes into his camp, and shy Republican-leaning undecideds came in off the sidelines.
That consolidation of the GOP vote propelled Trump to a lead in Florida in multiple reputable polls. An Upshot/Sienna survey of the Sunshine State, which uses voter file information to make its sampling estimates more precise, found Trump leading Clinton 46 to 42 percent. GOP unity was key to Trump's advantage, as the poll showed him winning 86 percent of self-identified Republicans, a higher share than Trump had won in any Upshot/Sienna survey this year.
A Bloomberg/Selzer poll taken last week showed Trump with a 2-point lead in Florida, while NBC/Wall Street Journal survey found Clinton up by a single digit in the state. All of these polls were taken prior to Comey's letter to Congress announcing a review of newly discovered emails "pertinent" to the bureau's investigation of Clinton.
So: Before the FBI's intervention, Trump was already narrowing his deficit with Clinton, both nationally and in his must-win state of Florida. Now that Comey has pushed Clinton's emails back into the media spotlight, should we expect Trump to catch — or overtake — Clinton in the coming days?
The limited post-Friday polling that we do have suggests that's unlikely. A Politico/Morning Consult tracking poll found Clinton leading Trump by 3 points in a four-way race before Comey's letter. In a poll taken entirely after that revelation, the poll found Clinton leading Trump by … 3 points. The survey did find 33 percent of voters saying that the email news made them less likely to vote for Clinton. But the vast majority of those voters were Republicans, who seemed to have become "less likely" to vote for Clinton in the same way that a vegan might become "less likely" to eat a bacon cheeseburger after hearing news of a mad-cow-disease outbreak.
A CBS News/YouGov tracking poll of 13 battleground states produced similar findings, with 13 percent of Democrats saying that the Comey news made them more likely to vote for Clinton and only 5 percent saying it made them less likely to. Meanwhile, 26 percent of Republicans said they were less likely to vote for Clinton, and large pluralities of both groups of partisans said their vote was unchanged.
Still, there are some signs that the FBI news could hurt Clinton. The aforementioned WaPo/ABC News tracking poll shows that Clinton's unfavorable rating post-Friday was statistically identical to Trump's at -21. While Clinton has had underwater favorable ratings for the entire general-election race, she had, previously, been less unpopular than Trump. And Morning Consult's poll showed 42 percent of undecided voters saying Comey's letter made them less likely to back the Democratic nominee (though that figure may roughly correspond to the proportion of Trump-averse, Republican-leaning undecideds who were already likely to come home for their party's nominee).
As of this moment, however, Clinton retains a substantial advantage on the swing-state map. CBS's swing-state polls show Clinton leading Trump by 8 in Pennsylvania and by 3 in Colorado and North Carolina. A new NBC News/Wall Street Journal poll has Clinton up 6 in the Tarheel State. If Clinton can hold on to both Pennsylvania and North Carolina, Trump has very little chance of stitching together a majority of electoral votes.
And Clinton's relative strength on the ground could help her outperform her polls, particularly in states that allow for early voting. Before Comey's letter, Democrats had taken a significant advantage in pre–Election Day balloting, and they seemed to retain that upper hand over the weekend. Per Bloomberg:

Initial statistics from early voting on Saturday in North Carolina, Nevada and Florida don't show a drop-off for Democrats that would change the trajectory of the presidential race as a result of the FBI letter, said Michael McDonald, a University of Florida professor who runs the U.S. Elections Project that updates early voting data daily.

There was an increase of 332 Democratic votes in North Carolina on Saturday compared with the same day in the 2012 election, and more registered Democrats cast ballots than Republicans on Saturday in Washoe County, Nevada, a county that Republicans carried in 2012, McDonald said. There was not a falloff in early voting in Florida, he said.

Polling of the 2016 race has been unusually volatile. And yet partisan polarization has kept the number of voters flipping between the two candidates quite small. Thus, as the Upshot's Nate Cohn argues, the movement in polls may be driven largely by dissatisfied partisans becoming more or less shy about expressing their true preferences:
When the news isn't so good for the candidate they're likelier to support, they say they're "undecided" rather than bring themselves to admit — either to themselves or to the polling interviewer — that they'll support their candidate. These same swings in enthusiasm have an effect on whether pollsters judge them to be likely voters, or even the propensity for voters to respond to surveys at all.

This theory helps explain why the most abrupt movements in the polls seem to come when the race is near one of its two extremes. Mrs. Clinton surged after the first presidential debate in part because she was near her low point heading into it. The allegations about Mr. Trump's sexual misconduct didn't hurt him as much in the polls as his first debate performance, for instance, because Mrs. Clinton's marginal supporters had already flocked back to her column after the debate. There were fewer voters for her to lure back.
Under this theory, we'd expect a small, short-term loss of support for Clinton that fails to change the race's underlying structure, which leaves Clinton with the largest slice of the electoral pie.
Finally, even as the nation remains bitterly divided across partisan lines, recent polls show one source of national unity: In the Politico/Morning Consult tracking poll, 71 percent of voters say that they wish the 2016 campaign was already over.