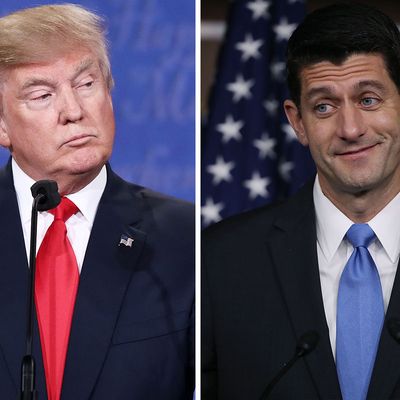 If you put Ryan and Trump in a barrel and rolled 'em down a hill, a Hillary-hater would be on top at every moment.
Photo: Win McNamee/Mark Wilson/Getty Images
In the wake of last night's final presidential debate and the ongoing flight of GOP "insiders" from Donald Trump's banana-republican refusal to say he will accept the election results, the odds of a post-election "struggle for the soul of the party" have gone up significantly. As noted conservative-watcher Robert Costa of the Washington Post reported today, all sorts of bad blood is in the water between Trump loyalists and Establishment Republicans led by Speaker Paul Ryan:
The axis of furious conservative activists and hard-right media that spawned Trump's nationalist and conspiratorial campaign is determined to complete its hostile takeover of the GOP, win or lose …
The first post-election target for the grievance movement is likely to be House Speaker Paul D. Ryan (R-Wis.), who has drawn Trump's wrath for not supporting him more fully. Trump's backers, both inside the House Republican caucus and out, are already talking about a takedown.
Specifically, says Costa, Sean Hannity, probably in a panic over the horror so many Republicans were privately if not publicly expressing about Trump's debate performance, was talking after the debate about finding a challenger to Ryan as Speaker. The calculation is probably that Republicans will maintain control of the House with a sharply reduced majority, making Ryan very vulnerable to a combination of Democrats and conservative back-benchers who want to deny him the gavel. Meanwhile, Trump is steaming toward Election Day more and more dependent on the views of people like his Ryan-hating campaign chairman, Stephen Bannon.
Now you can go back and forth about which faction of the GOP holds the whip hand. In Costa's account a staffer for independent conservative president candidate Evan McMullin contemptuously remarked: "Ryan is going to have to crack the whip and instill some discipline to remind these guys that they don't run the party." Trouble is, polls keep showing that Ryan's less popular with rank-and-file Republicans than Trump.
Until the "struggle for the soul of the GOP" sorts itself out, though, there is one thing it guarantees: No one will dare take the chance of getting outflanked with the party "base" by even vaguely hinting at a willingness to cooperate with a President Hillary Clinton. Going "bipartisan" in conjunction with the hated (and presumably election-stealing) Clinton is the one thing that would guarantee a successful revolt against Ryan (or Senate Republican Leader Mitch McConnell, if he still has a majority). Indeed, the only way congressional Republican leaders could possibly have the intra-party leeway to play pretty with Clinton is if they lose their majorities altogether — in which case Democrats probably won't want or need their help even if it against all expectation happens.
So to play this all out a bit, would Democrats have a betting favorite in a battle between Trump and anti-Trump factions after November 8? They'd probably prefer a Trump ascendancy, if only because a deeply divided and half-crazed GOP might offer the governing party the rare opportunity of winning a midterm election. Other than that, they may just get out the popcorn and watch as Republicans rip each other apart.