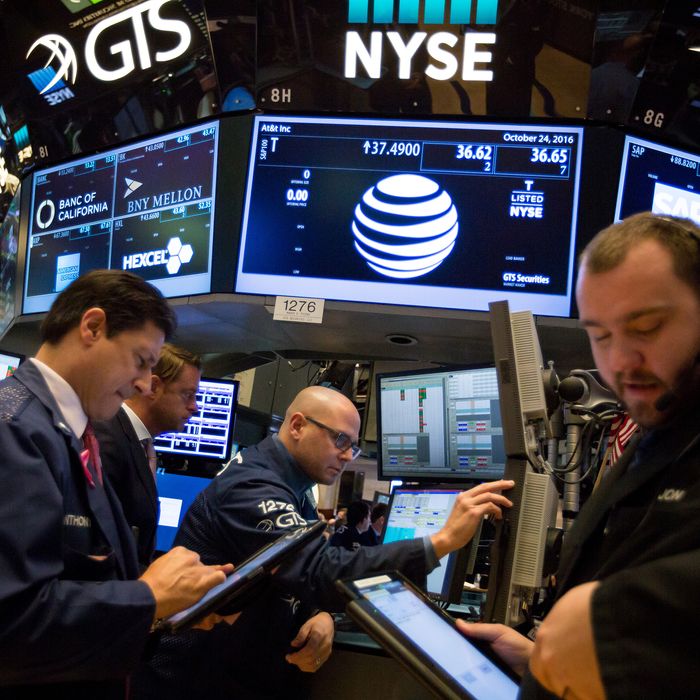 Looks like the economy isn't "dying at one percent GDP" after all.
Photo: Michael Nagle/Bloomberg via Getty Images
In the third presidential debate, Donald Trump deployed one of his typical talking-to-himself shorthand references in denouncing the slow growth levels of the U.S. economy during the Obama administration: "We are going to start the engine rolling again because right now our country is dying. At one percent GDP."
Trump is not the sort of politician who is going to change his tune because of inconvenient facts emerging. But his litany of bad vibes about the U.S. economy may skip a small beat thanks to today's big economic news:
Gross domestic product, a broad measure of goods and services produced across the economy, expanded at an inflation- and seasonally adjusted 2.9% annual rate in the third quarter, the Commerce Department said Friday. That was stronger growth than the second quarter's pace of 1.4%. Economists surveyed by The Wall Street Journal expected growth at a 2.5% pace for the July-to-September period.
Last quarter's growth rate was the fastest recorded in two years.
The Wall Street Journal's headline for this story was even more emphatic: "U.S. Economy Roars Back, Grew 2.9% in Third Quarter."
There will be one more official jobs report before Election Day — on Friday, November 4. But unless the numbers are insanely bad or good, they probably won't make any difference at all to voting decisions — certainly not to the millions of voters who will have already cast early ballots by then. Trump might be well advised to make his closing rants and raves about something else.