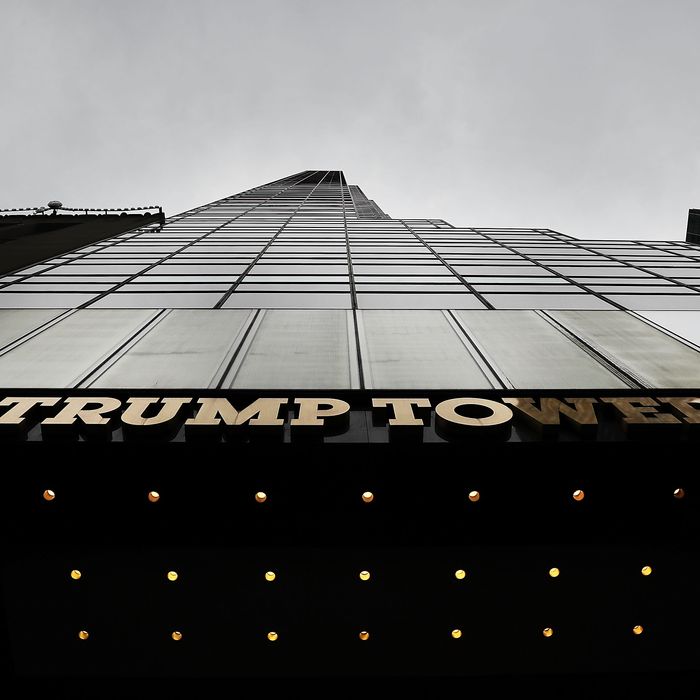 Shelter from the storm.
Photo: Spencer Platt/Getty Images
According to a new report from the Daily Beast, Donald Trump forced the production staff of his reality show The Apprentice to come into work at Trump Tower in the days immediately following Hurricane Sandy, even though the city was effectively shut down and there was a state of emergency in effect.
The Daily Beast tracked down multiple employees who report having to come into work, braving dangerous commuting conditions (53 people were killed in the storm). Trump only had to take an elevator a few floors down from his apartment.
"We were in his building, and we fought with [a] manager, who said, 'It's not from me, it's from [Donald Trump] himself,'" remembered one ex-Apprentice employee, "Ivanka [Trump] did very nicely [come down] and thank us for coming in. She really was very nice but we were all [thinking], 'Well, it was easy for you Trumps to simply come downstairs, why are we here?'"
The employees all spoke on the condition of anonymity because they signed confidentiality agreements, which is common among Trump staffers. The Daily Beast also tracked down emails that confirm the production staff was forced to come into work immediately following the storm, even though the camera crews got the day off. Everyone quoted in the story is in agreement that the order to come into work came from Trump himself.
Meanwhile, Trump was using the hurricane as a PR coup.
The day the storm struck Trump tweeted: "We are taking care of hundreds of people in the Trump Tower atrium — they are seeking refuge. Free coffee and food." But less than a day later, he claimed that Trump Tower provided shelter to thousands of people. The lobby has a capacity of 350 people, and Trump was required by law to provide shelter to storm victims.
Trump also took the opportunity to plug the birther conspiracy theory, tweeting:
When asked about the thousands of storm refugees allegedly sheltered by Trump, one ex-staffer responded by text, "Ha. Ya no pretty sure he did not do that."
One manager on The Apprentice summed up the whole situation as "some fucking Trump bullshit."
Next weekend is the fourth anniversary of the hurricane.