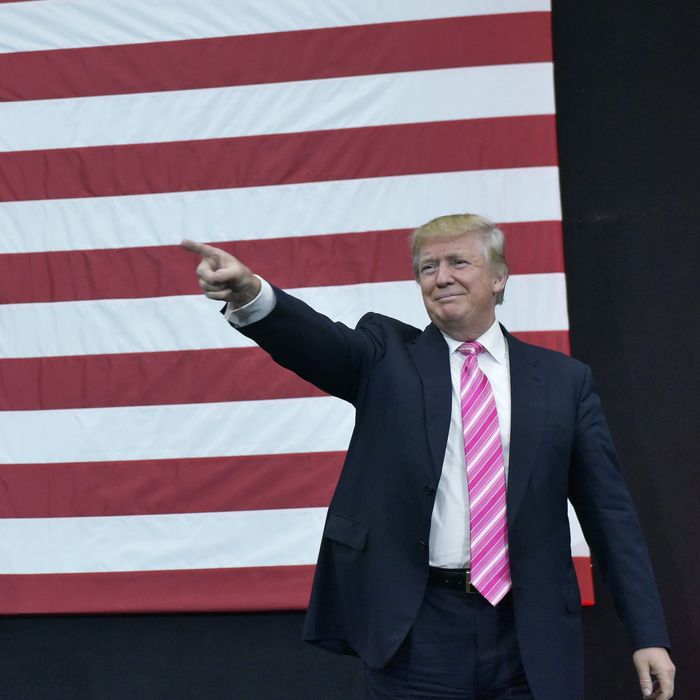 Photo: Mandel Ngan/AFP/Getty Images
The New York Times was anonymously mailed portions of Donald Trump's 1995 tax records, and they report that, based on the $916 million loss declared in those records, the real-estate mogul would have been able to legally avoid paying federal income taxes for up to 18 years. The possible tax benefit, which was projected by tax experts hired by the paper, would have been the result of Trump's unsuccessful business efforts in the 1990s. Put another way, as real-estate professor Joel Rosenfeld told the Times, Trump received "a vast benefit from his destruction," which included failed business ventures in Atlantic City, the airline industry, and Manhattan's Plaza Hotel.
Someone sent three documents — the first pages of his 1995 New York, New Jersey, and Connecticut state tax returns — to a Times reporter with a return address of Trump Tower in Manhattan. A lawyer and accountant who had handled Trump's tax records that year confirmed that they seemed to be authentic copies.
According to the report, "the most important revelation from the 1995 tax documents is just how much Mr. Trump may have benefited from a tax provision that is particularly prized by America's dynastic families, who, like the Trumps, hold their wealth inside byzantine networks of partnerships, limited-liability companies and S corporations." The Times goes on to explain that Trump could thus use net operating losses to "cancel out an equivalent amount of taxable income from, say, book royalties or branding deals," even across multiple additional years.
The Trump campaign gave a statement to the Times in response to their findings, neither confirming nor denying the tax experts' conclusions (one of Trump's lawyers also told the paper that publication of Trump's records was illegal):
Mr. Trump is a highly-skilled businessman who has a fiduciary responsibility to his business, his family and his employees to pay no more tax than legally required. That being said, Mr. Trump has paid hundreds of millions of dollars in property taxes, sales and excise taxes, real estate taxes, city taxes, state taxes, employee taxes and federal taxes. Mr. Trump knows the tax code far better than anyone who has ever run for President and he is the only one that knows how to fix it.
It's also important to note that tax experts indicated to the Times that "nothing in the 1995 documents suggested any wrongdoing by Mr. Trump." Meanwhile, the Trump campaign has released their own statement responding to the report, and again, neither confirmed nor denied that Trump did not pay federal income taxes for 18 years:

And the Clinton campaign is already working to highlight the Times "bombshell":
Politico adds:
[It's unlikely Trump or his campaign will be able to regain the narrative,] according to former Democratic National Committee official Mo Elleithee, who said the tax story was a "devastating body blow" that would "haunt him for the next five weeks."

"The fundamental argument of his campaign," Elleithee said, "is the little guy is getting screwed and I'm the guy who's going to look after you. It is hard to make that argument when there is evidence now in front of everybody about how he has benefited personally, how he has gamed the system."

Democrats have seized on the Times story, with the DNC blasting it out to its email list and officials from coast to coast tripping over themselves to provide comment.
Of course, Trump has refused to release any tax returns over the course of his campaign for president, saying he can't do so until an IRS audit of them is finished, though there is no law preventing him from doing so. In addition, the documents the Times obtained do not offer any indication of Trump's net worth at the time, which is another element of his personal finances that remains a mystery.
Read the whole report here.