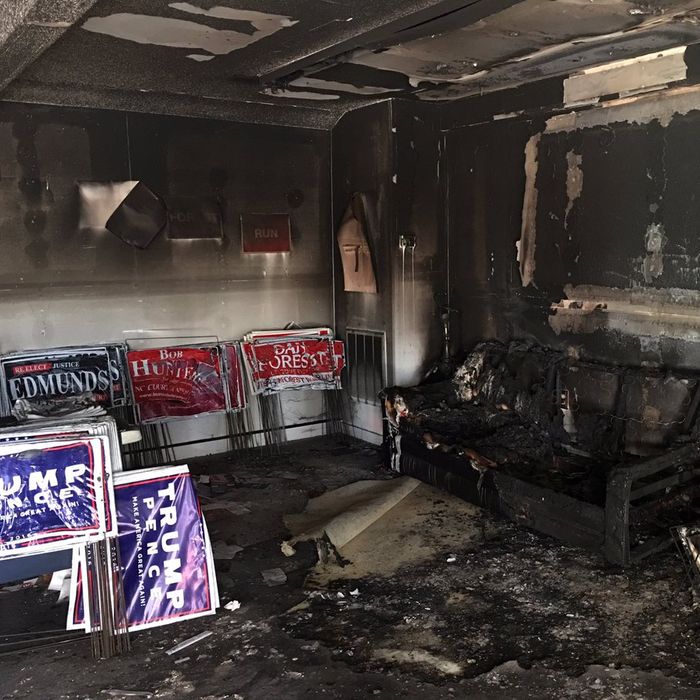 The charred inside of the office.
Photo: North Carolina GOP/Twitter
A county Republican Party headquarters in a heavily Democratic part of North Carolina was firebombed and threatened with an anti-Nazi message overnight Saturday, according to the Charlotte Observer. Reports indicate that a bottle of flammable liquid was thrown through the front window of the Orange County Republican headquarters in the town of Hillsborough, and that the threat, "Nazi Republicans get out of town or else," complete with a swastika, was also spray-painted on the side of an adjacent building.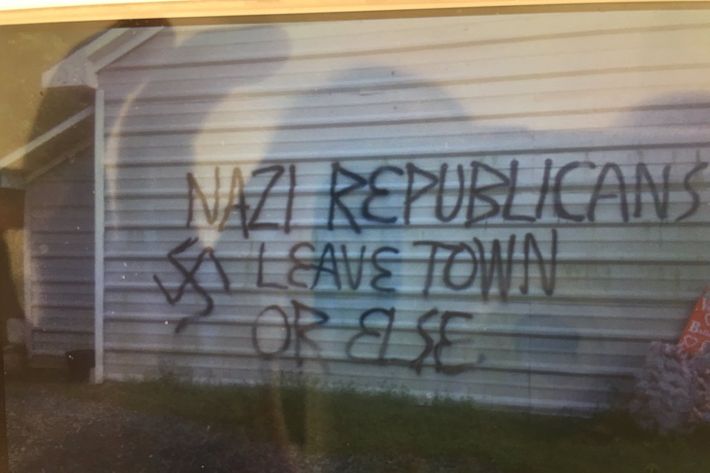 No one was injured as it seems the office was empty at the time of the attack. According to a statement from the town of Hillsborough, the damage was discovered by another business owner on Sunday morning, and local police, as well as the Bureau of Alcohol, Tobacco, Firearms, and Explosives, are now investigating the crime. There do not seem to be any suspects yet. As the Observer points out, Democrats and independents outnumber Republicans 5-1 in Orange County, and North Carolina is an important swing state in which Hillary Clinton has consistently held a small lead, according to polls.
Dallas Woodhouse, the executive director of the North Carolina GOP, told the Observer that the office was a total loss, calling the attack an act of "political terrorism." Said Woodhouse in a statement via the state party:

Whether you are Republican, Democrat, or Independent, all Americans should be outraged by this hate-filled and violent attack against our democracy. Whether the bomb was meant to kill, destroy property, or intimidate voters, everyone in this country should be free to express their political viewpoints without fear for their own safety. We will be requesting additional security at all Republican Party offices and events between now and Election Day to ensure the safety of our activists, volunteers, and supporters.
Hillsborough mayor Tom Stevens was similarly alarmed, saying in a statement that, "This highly disturbing act goes far beyond vandalizing property; it willfully threatens our community's safety via fire, and its hateful message undermines decency, respect and integrity in civic participation."
Hillary Clinton quickly condemned the attack as well:
Donald Trump later weighed in on the story too, and he was quick to assign blame and associate the incident with Clinton:
North Carolina's Republican governor, Pat McCrory, released a statement on Sunday saying that the incident was "clearly an attack on our democracy" and that he would do everything in his power to assist with the investigation. Roy Cooper, the state's Democratic attorney general and McCrory's opponent in this year's gubernatorial race, also tweeted that "the culprits must be caught and brought to justice," and North Carolina Democratic Party Chair Patsy Keever condemned the "outrageous" attack and said in a statement that, "Our deepest sympathies are with everyone at the North Carolina Republican Party."
Here are some more photos of the damage:
The North Carolina GOP also recorded a Facebook Live video giving a tour of the damaged office.
This post has been updated throughout to reflect new information and statements about the story.