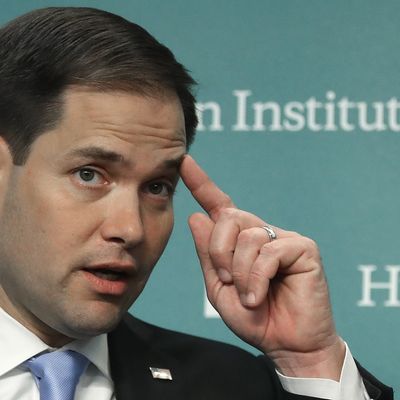 Marco Rubio's campaign headaches.
Photo: Win McNamee/Getty Images
Marco Rubio is having a terrible year. After being bullied out of the presidential race by Donald Trump, then giving up his dream of leaving the public sector forever to run for reelection to the Senate seat he has held since 2011, he swallowed what was left of his pride to endorse Trump. Now, he's watching his chances for senatorial reelection grow tighter and tighter all because of — you guessed it — Donald Trump.
In Marco Rubio's latest humiliation, the Miami Herald, the influential paper that has endorsed Rubio for more than half a decade, switched its allegiance, endorsing Rubio's opponent, Patrick Murphy, and calling Rubio "a disappointment."
According to the Herald, "Mr. Trump's candidacy is a test of character, and Senator Rubio is failing that test." The paper continues:
How can voters believe he's sincere when he says he does not share Mr. Trump's awful views on Mexicans, immigrants, Muslims, women, etc., yet — at the same time — stands by his endorsement of the New York billionaire? His act is unconvincing. It reeks of political convenience rather than political conviction.
The surprise endorsement comes as an election, which many thought would be a sure-thing for Rubio, becomes increasingly hard-fought.
Rubio has so far managed to maintain a single-digit lead over Murphy. A Quinnipiac poll released on Tuesday found Rubio with a 49-47 point lead — technically "too close to call" — and a considerable slide from early October when the same poll showed him ahead by four points. But, as Trump's behavior grows increasingly toxic and voters become more and more resigned to a Clinton presidency, Rubio is facing the twin dangers of depressed Republican voter turnout and the possibility of a down-ticket anti-Trump reaction to contend with. It probably didn't help that Trump said "we like Marco" at a rally in Florida, or that Rubio was forced to go out of his way to rebuke one of Trump's major talking-points, saying he does not think the election will be rigged.