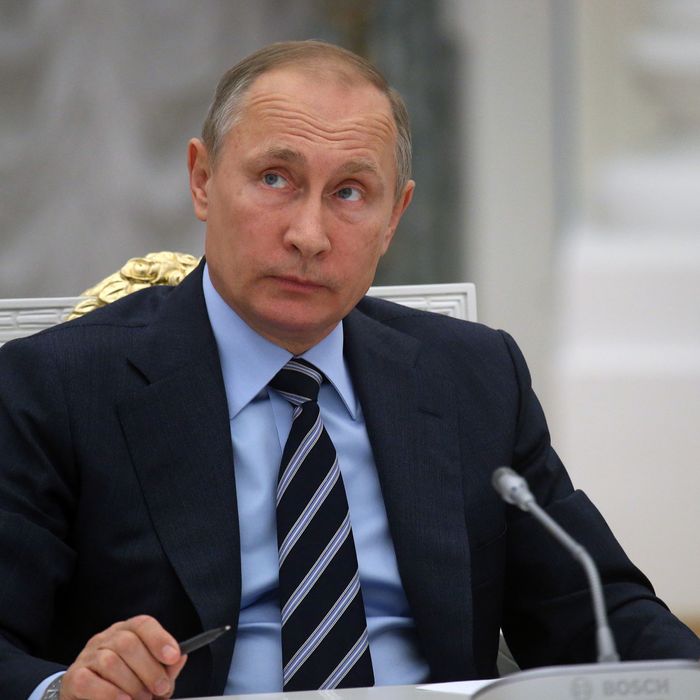 Innocent Vladimir Putin once again smeared by the liberal media.
Photo: Mikhail Svetlov/Getty Images

For months now, a wide and deep array of evidence surrounding hacks of the Democratic Party emails has implicated Russia: conclusions by experts in the private sector, in the U.S. government, and the pattern of behavior of Russian attempts to influence elections abroad. The Nation described the accusation that Russia had engineered the hacks as part of a campaign of "neo-McCarthyism":
While the FBI has launched an investigation, as of press time, nobody has conclusively proven who hacked into the DNC's network, much less demonstrated what their motives were. But that didn't stop Clinton campaign manager Robby Mook from appearing on CNN on July 24 to allege that Russia was behind the hack. …Nevertheless, liberal-media elites have joined with the Clinton campaign in promoting the narrative of a devious Russian cyber-attack.
Glenn Greenwald likewise complained, "[I]t was instantly asserted that it was The Russians who gave them those emails," which he called a "smear" and — despite the volume of evidence supporting it — an "evidence-free conspiracy theory," support for which he attributed to dishonest lackeys of the Clinton campaign. Capitalizing the entire phrase "The Russians" is Greenwald's way of archly signaling his belief that Russia is the constant object of undue suspicion:
Today the Department of Homeland security and the director of national intelligence announced they are confident the leaks were orchestrated by Russia and were intended to influence the election:
This is not proof that Trump is working in any conscious way with Russia. (Intelligence officials are investigating whether one of Trump's foreign-policy advisers held clandestine meetings with Russian officials.) And, of course, the U.S. government, unsurprisingly for a counterintelligence operation, hasn't released proof for its conclusions. It might all be a massive conspiracy by American intelligence to fool the world into believing that a regime that constantly uses clandestine information to influence foreign elections is using clandestine information to influence a foreign election. But the "conspiracy theory" here is very much the one peddled by the "anti-McCarthyist" left.