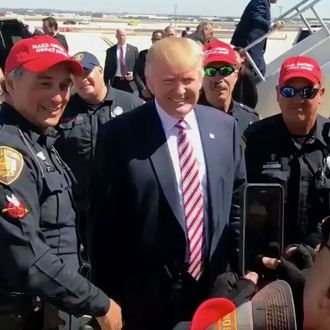 A handful of San Antonio motorcycle cops "displayed poor judgment" and will be "disciplined appropriately" for wearing "Make America Great Again" hats after escorting Donald Trump, according to a statement from that city's police chief.
Trump tweeted a video Tuesday evening of the officers, who escorted him to and from the San Antonio airport, posing with him outside his plane.
City policy bars city employees from making overt political statements while on the job, according to the San Antonio Express-News. But don't expect the officers to be punished very harshly.
"It seems kind of benign," San Antonio Police Officers Association president Mike Helle told the paper. "They'd probably get a written reprimand or counseling to not do that sort of thing on duty."