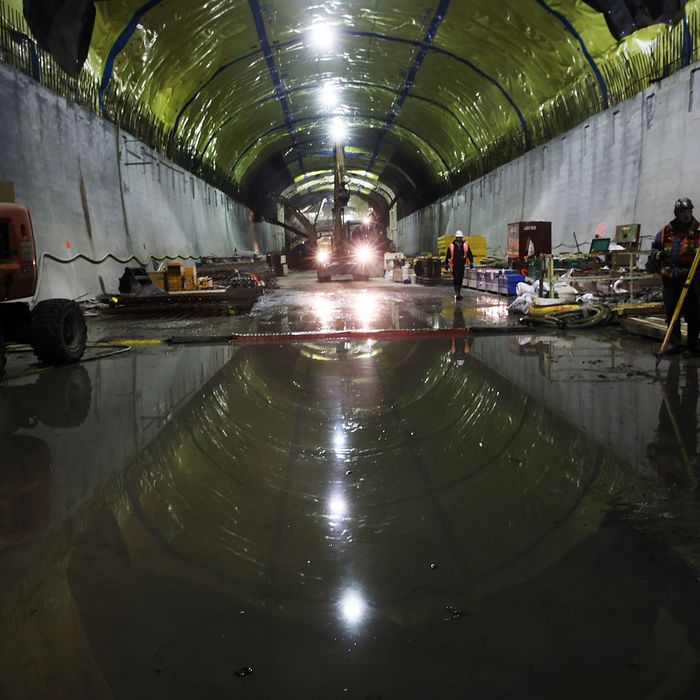 Workers are viewed underneath Manhattan at the Second Avenue Subway project site on January 10, 2014, in New York City.
Photo: Spencer Platt/Getty Images
The MTA has declared that, after a nearly century-long wait, Phase 1 of the Second Avenue Subway line will open before the end of 2016. This week, Representative Carolyn Maloney gave the MTA an A-plus and said there was "no doubt" the line would open by its December 31 deadline. Video emerged a few weeks ago of subway tests along the line. Straphangers noted new signs welcoming back the W, which is coming out of retirement in less than two weeks to prepare for the Q's eventual reroute along Second Avenue.
"There's still a ways to go," MTA chairman Thomas Prendergast said at a board meeting Wednesday night, "and we're still hopeful at this time for December 31."
And yet: Others are a bit more skeptical. Most of the actual construction on the stations (72nd, 86th, and 96th streets) is complete, but independent engineer Kent Haggas said that two of the three stations, 72nd and 86th, are behind on critical equipment tests — things like the escalators, elevators, fire alarms, and ventilation. Haggas noted that crews had to triple the number of weekly tests to stay on track. According to DNAinfo, the current pace is 14 per week, which means 40 tests per week is the new magic number.
Haggas did say productivity has increased, but crews will need to "ramp up" even more as the deadline looms. Some of the timelines seem to be cutting it close: For example, at 86th Street, 10 of the 13 escalators have been installed, and the due date to finish tests on all of them is December 14, about two weeks away from the grand opening. According to the New York Times, Prendergast had floated the possibility in the past of opening the line and bypassing 72nd Street, which has also been beset by testing delays. (Daily Intelligencer reached out to the MTA regarding the possibility of trains skipping 72nd or 86th or both, and will update if we hear back.)

The next board update on Second Avenue will come on November 14, a month and a half away from opening day. "Can't wait for it to be here," an Upper East Side resident told NBC 4 earlier this month. "I'll believe it when I see it."