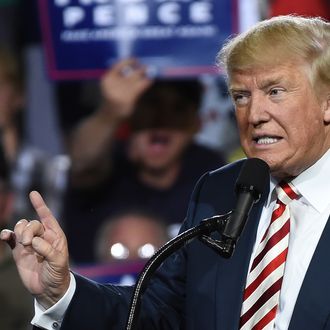 The Donald.
Photo: Robyn Beck/AFP/Getty Images
The Secret Service investigated a veteran in Virginia over threats he made in February, when he said he was going to shoot presidential nominee Donald Trump.
The veteran's name and details on criminal charges have not been released, as the investigation is ongoing.
While the suspect reportedly told investigators that he was "only messing around," they found grounds for real concern.
According to a police investigation released by the U.S. Department of Veterans Affairs Office of the Inspector General on Wednesday, the suspect — who possessed numerous firearms — was carrying a gun and heading to a Trump appearance in Virginia last week when his neighbor asked him what he was doing. The suspect replied that he was going to "shoot Trump."
The suspect then apparently had a change of heart and thought to himself I can't do this, before going back into his house.
The Secret Service responded in less than an hour after the veteran's threats became known. During questioning he told investigators that he thought Donald Trump was "creating problems instead of helping people."