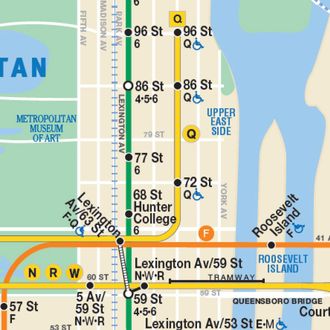 Footage of an empty subway car rolling through a station doesn't sound that exciting, but just take a look at the description of the video posted by "train enthusiast" DJ Hammers:
I came across some test trains passing Lexington Avenue — 63rd St to test the third rail, signals, and track on the newly-built Second Avenue Subway! Luckily, I could see these trains from the public area of the Lexington Ave — 63rd St station from the staircases between the two levels of the station. Very interesting operation!
Yes, we now have visual proof that Peggy Olson's dream is coming to fruition. "We are beginning various tests all along Second Avenue Subway as we said we would," an MTA spokesperson told DNAinfo. "That testing includes some train runs, which began this weekend."
The spokesperson said there's no change to the anticipated December 31 opening date, though recent reports suggest that more delays are likely. Last month, DNAinfo reported that completion of the subway stations at 72nd and 86th Streets was behind schedule, as well as tests on the line's systems. Kent Haggas, an independent engineer working on the project, said that while the third rail is on, the MTA still needs to run about 300 tests on the smoke alarms, escalators, elevators, ventilation, and various other systems. Currently only about eight to ten tests are completed each week, according to Haggas.

Still, this raises our hopes that, 50 years from now, the Second Avenue subway won't be merely a joke in some 2010s period piece our kids watch in virtual reality.