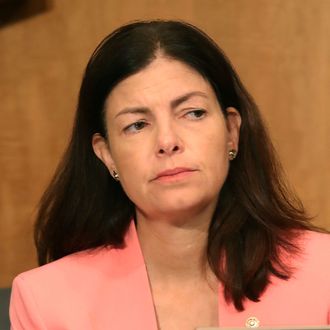 Photo: Mark Wilson/Getty Images
For weeks Hillary Clinton has been running a devastating ad that shows children watching clips of Donald Trump's greatest hits, including one where he calls Mexicans rapists, the "blood coming out of her wherever" sound-bite, and his imitation of a disabled reporter.

During a televised debate on Monday night, Republican senator Kelly Ayotte of New Hampshire offered a counterpoint, and her argument wasn't very compelling.

Noting that the president is "obviously an aspirational figure, one who is a role model, and who stands for ideals on a world stage," the moderator asked, "Would you tell a child to aspire to be like Donald Trump?"
"I would tell a child to absolutely aspire certainly to be their best and to be president and to seek to run for the presidency, absolutely," Ayotte answered.
But would Ayotte tell a child to be like Trump specifically, or point to him as a role model?
"I think that certainly there are many role models that we have and I believe he can serve as president, and so absolutely I would do that," she said.
Ayotte has publicly admonished her party's presidential nominee for feuding with a Gold Star family, criticizing Senator John McCain's war-hero status, and briefly suggesting that women who get abortions should be punished. She says she'll vote for Trump, but has refused to endorse him.

Ayotte explained that she's taken this odd stance, "Because I've had some disagreements with him, and I've been quite clear about those disagreements." Then she tried to turn things on her opponent, Democratic governor Maggie Hassan, saying, "This is an area where Governor Hassan has been lockstep with Hillary Clinton. I haven't heard major disagreements that she's had with Secretary Clinton. So who is going to stand up on behalf of the people of New Hampshire?"
Ayotte never called Trump a good role model, but some were confused by her point that kids should aspire to be president, and as a citizen of the U.S. over the age of 35 Trump is technically qualified to hold that position. After the debate, Ayotte clarified her position:

Got it, kids? If you work really hard, someday you too can become a senator and choose between humiliating yourself by supporting your party's nominee and humiliating yourself by failing to firmly denounce them.