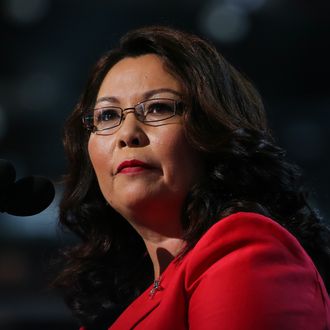 Tammy Duckworth.
Photo: Joe Raedle/Getty Images
A moment in Thursday's debate between the two candidates running for the U.S. Senate seat in Illinois might have gone down as one of the low points of the 2016 election, if there weren't already so many to choose from.
Republican senator Mark Kirk is locked in a tough reelection battle with Democratic congresswoman Tammy Duckworth. During their second debate on Thursday night, Duckworth was making the case for having a veteran in the Senate when the nation is deciding whether to go to war.
"My family has served this nation in uniform going back to the revolution. I am a daughter of the American Revolution. I've bled for this nation," Duckworth said. "But I still want to be there in the Senate when the drums of war sound because people are quick to sound the drums of war and I want to be there to say this is what it costs and this is what you're asking us to do."

"I'd forgotten that your parents came all the way from Thailand to serve George Washington," Kirk said.
After a moment of stunned silence, the moderator moved on, but then a panelist gave Duckworth a chance to explain her heritage. Duckworth was born in Thailand and her mother is an immigrant who became a U.S. citizen in her 50s. Her father is a U.S. Marine, and she can indeed trace her family's military history back to the American Revolution. The Illinois Daughters of the American Revolution erected a statue of Duckworth and Revolutionary War hero Molly Pitcher at Mount Vernon.
After the debate, the Democratic Senatorial Campaign Committee demanded that Kirk apologize to Duckworth, saying a "struggling political campaign is no excuse for baseless and despicable attacks."
Instead, his campaign released this statement, which does not include an apology:
Senator Kirk has consistently called Rep. Duckworth a war hero and honors her family's service to this country. But that's not what this debate was about … Rep. Duckworth lied about her legal troubles, was unable to defend her failures at the VA and then falsely attacked Senator Kirk over his record on supporting gay rights.

After the debate, Duckworth posted a photo of her family on Twitter:
After making a number of racially charged comments, such as saying that "we drive faster" through African-American neighborhoods, Kirk said in April 2015 that he would stop discussing race. "I would say that whenever a targeted member talks about race or ethnicity, it is impossible for him to get it right. So I'll leave it at that," Kirk told the Chicago Sun-Times.
Kirk suffered a stroke in 2012, and he says the recovery process has made him "much more empathetic to people." However, in light of his string of gaffes, uncomfortable questions have swirled about whether he has recovered sufficiently to serve a second term. The Chicago Tribune endorsed Duckworth, saying, "Our reluctant judgment is that, due to forces beyond his control, Kirk no longer can perform to the fullest the job of a U.S. senator."