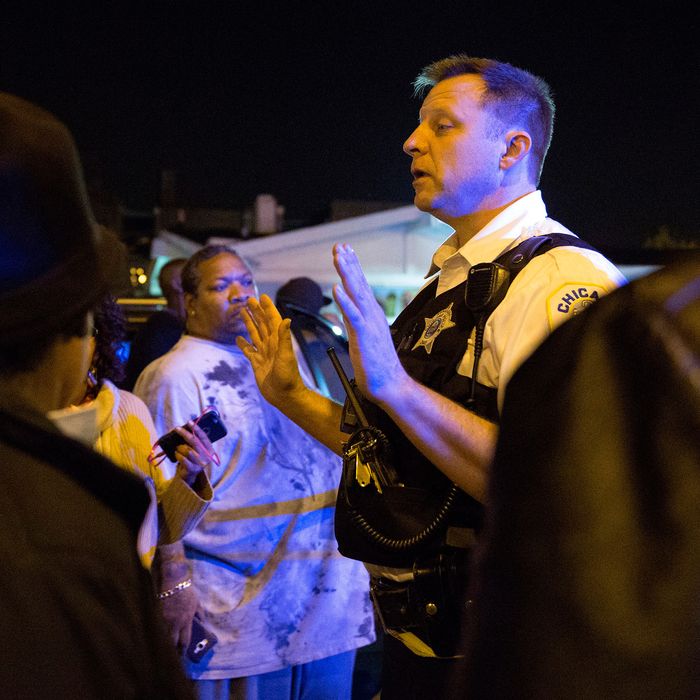 A crime scene in Chicago over the weekend.
Photo: Erin Hooley/Chicago Tribune via Getty Images
Donald Trump has spent much of the past 16 months grossly exaggerating the pervasiveness of violent crime in the United States. Most recently, the Republican nominee claimed that America's murder rate is at 45-year high, when it actually remains lower than it was for most of the past four decades.
But the desire to refute Trump's hyperbole — and the draconian anti-crime policies the mogul's distortions might justify — mustn't distract progressives from grappling with the epidemic of gun violence in many of America's urban centers.
So far this year, 638 people have been murdered in the city of Chicago. That's 217 more than were killed by this time last year, the Chicago Tribune reports. At least 3,662 Chicagoans have been shot since the beginning of January, 1,106 more than during the same period in 2015.
And while gun violence has historically reached its peak in the heat of summer, the past three days marked the deadliest weekend of the most violent year Chicago has seen in decades.
Between Friday afternoon and early Monday, 59 people were shot in the city, 17 fatally. Seven of the dead were under 20 years old, among them were an eighth-grade honors student and twin 17-year-old boys.
On Monday, police Superintendent Eddie Johnson called for cracking down on repeat gun offenders and rebutted accusations that the department enabled gang violence by dedicating hundreds of extra officers for crowd control outside Wrigley Field during the Cubs' World Series games.
Whatever the proximate causes of this weekend's violence in Chicago, last year's FBI data suggests that the murder rate has been moving in the wrong direction in a number of urban communities where there is concentrated poverty, racial segregation, easily accessible firearms, and low homicide-clearance rates. Progressives must push for an anti-crime agenda that reduces the number of neighborhoods defined by those conditions.