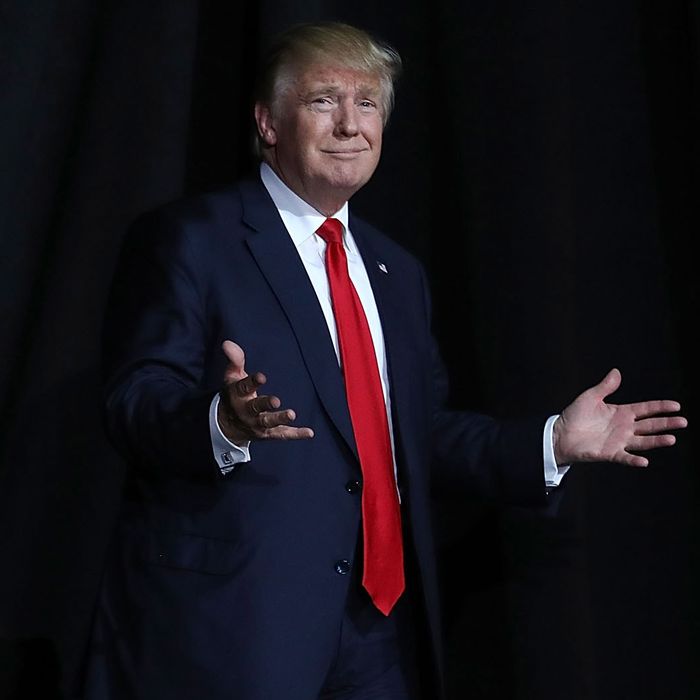 Photo: Joe Raedle/Getty Images
A new study finds that an outrageous 8 percent of the the major networks' nightly news coverage about Donald Trump wasn't negative, despite the fact that the Republican nominee is an authoritarian demagogue who has praised political violence, railed against the freedom of the press, and challenged the legitimacy of American democracy.
That dispiriting finding comes from the conservative Media Research Center, which also found that Trump received far more coverage on the big three's evening news shows than Hillary Clinton did.

For their study, MRC dissected all 588 nightly news stories that touched on the presidential campaign between July 29 through October 20. During that period, the 2016 race took up 29 percent of all evening news broadcasts on ABC, NBC, and CBS. After subtracting all comments from candidates and their surrogates, the study found that correspondents, anchors, and expert commentators periodically failed to describe the campaign of an incompetent xenophobe in hostile terms.
Still, MRC chose to frame its results positively, emphasizing that 91 percent of the time, these broadcasts maintained a tonal distinction between their criticism of Hillary Clinton — a flawed but ordinary candidate — and Donald Trump, a genuine threat to liberal democracy.
"Even when they were critical of Hillary Clinton — for concealing her pneumonia, for example, or mischaracterizing the FBI investigation of her email server — network reporters always maintained a respectful tone in their coverage," the study's authors write. "This was not the case with Trump, who was slammed as embodying 'the politics of fear,' or a 'dangerous' and 'vulgar' 'misogynistic bully' who had insulted vast swaths of the American electorate."
Of all the news stories of the 2016 cycle, the 2005 tape of Trump discussing how he enjoys grabbing women's genitals without their consent received the most attention, with networks giving the story 102 minutes of airtime. Still, the balance of coverage remained bizarrely skewed, as the Republican nominee's boasts about sexual assault received only nine more minutes of coverage than stories about Clinton's brief bout of pneumonia and email habits.
Perhaps the greatest bias in evening news coverage hasn't been against Clinton or Trump, but against stories related to policy. In a study flagged by Politico, television tracker Andrew Tyndall notes that coverage of policy issues has been "virtually nonexistent," accounting for a little over a half-hour of all campaign coverage. Per Tyndall:
Of the 32 minutes total, terrorism (17 mins) and foreign policy (7 mins) towards the Middle East (Israel-ISIS-Syria-Iraq) have attracted some attention. Gay rights, immigration and policing have been mentioned in passing. No trade, no healthcare, no climate change, no drugs, no poverty, no guns, no infrastructure, no deficits. To the extent that these issues have been mentioned, it has been on the candidates' terms, not on the networks' initiative.