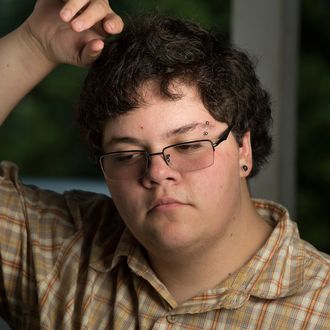 Gavin Grimm, 17, sued the Gloucester County School Board after it barred him from the boys' bathroom.
Photo: Nikki Kahn/The Washington Post/Getty Images
The Supreme Court will wade into the issue of transgender rights and review an Obama administration directive that says public schools must let transgender students use the bathroom that best fits with their gender identity.
The Court said Friday it would take up the suit. The case in question involves a 17-year-old transgender teenage boy, Gavin Grimm, who sued the school board of his Virginia high school. The principal of Gloucester High School had at first allowed Grimm to use the men's room, but the school board reversed that policy and mandated that students use the restroom that corresponds to their "biological genders." Transgender students such as Grimm could use private, single-stall bathrooms instead.
Grimm sued, saying the school's position violated his civil rights. A federal appeals court ruled in favor of Grimm, saying the school board's policy violated a Title IX provision that bars discrimination based on sex in institutions that receive federal money. The Obama administration, in its guidance to public schools, had said that provision extends to transgender rights — logic with which the appeals court agreed.
The Supreme Court granted a stay on that case in August — which meant the school board didn't have to comply with the lower court's ruling — while it decided whether to take up the case. Now that it is, the court, which still has only eight justices, will rule on the issue this term.