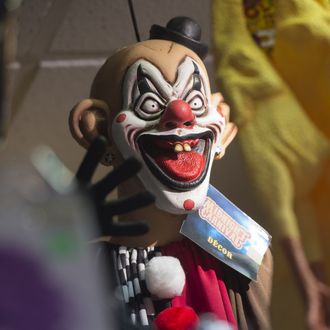 Not available at Target.
Photo: SAUL LOEB/AFP/Getty Images
If you're interested in getting in on the dumbest fad sweeping the country while simultaneously looking down on the plebs who shop at Walmart, you're out of luck. After clown masks began disappearing from Target stores nationwide last week, the company confirmed on Sunday that the Halloween costumes are being pulled due to creepy clown incidents.
"Given the current environment, we have made the decision to remove a variety of clown masks from our assortment, both in stores and online," Target spokesperson Joshua Thomas told WCCO Minneapolis.
The latest round of clown sightings began in the South and often involved claims that the figures were trying to lure children into the woods. The evidence to back up such reports was pretty thin, but the stories left many spooked, and soon local troublemakers across the country saw an opportunity.
While it seems the vast majority of creepy clown sightings are pranks, recently there have been some disturbing, violent incidents in which attackers were reportedly dressed as clowns.
A woman in Oklahoma said she was attacked on Saturday night when she stopped on the side of the road to help a woman who flagged her down. The victim, whose brother passed away several days ago, told police that when she stopped the woman approached the driver's side door followed by two men wearing clown masks. According to Oklahoma's News on 6, she said the men pulled her from the car, held her down while the woman wrote "clown posse" on her face, extinguished a cigarette on her face, and choked her.
Officials say that thanks to social media, clown incidents are spreading outside the U.S. as well. Earlier this month, a person wearing a clown mask stabbed a teen in the shoulder in Sweden, and on Saturday, two teen girls in the U.K. say that they were chased by a person dressed as a clown and brandishing a machete.
And there are other signs that the trend had gotten completely out of hand. Early on Sunday morning, a Santa Clarita, California, homeowner told police that he fired a warning shot into the air after he was threatened by a knife-wielding clown. Police wound up arresting the homeowner on suspicion of possessing weapons and narcotics, but that's not the weird part. Per the L.A. Times:
Deputies did discover a man with a clown mask hiding in some bushes a few blocks away from where the warning shots were fired — a sighting "unusual for that time of morning," [Sergeant Cortland] Myers said.

However, "the homeowner didn't identify this clown as the correct clown," Myers said. "His guy had a full clown costume and a mask, and the clown he saw was taller."
If your bushes have yet to be infested with creepy clowns, consider yourself lucky.