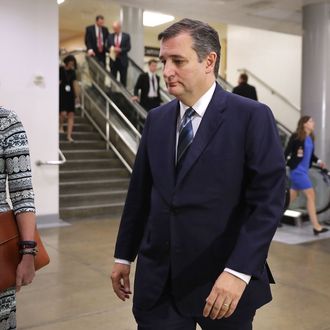 Ted Cruz's happy face.
Photo: Chip Somodevilla/Getty Images
Ted Cruz put an end to days of speculation when he announced on Monday night that he would be sticking by Donald Trump despite comments made by the presidential candidate bragging about sexually assaulting women.
Speaking on a local television station in Texas, Cruz said that he was not withdrawing his endorsement because he thinks Hillary Clinton is an "absolute disaster."
His stance sets him apart from the scores of Republicans who have distanced themselves from the nominee — including House speaker Paul Ryan — because of Trump's misogynistic comments. Cruz conceded that Trump's remarks in the video were "disturbing and inappropriate."
"My differences with Donald … I've articulated at great length during the campaign. I tried with all my length," Cruz said, adding that he believes Clinton is "manifestly unfit to be president."
During the Republican National Convention, Ted Cruz made waves in what was perceived at the time as him taking a stand against Trump by telling Republicans to "vote their conscience."
In Monday's interview, Cruz refused to speculate about a possible future presidential run and even referred to the Republican primaries, in which Donald Trump insulted his family, his character, and his abilities, as "an amazing journey."
Carry on, Sad Ted Cruz meme.