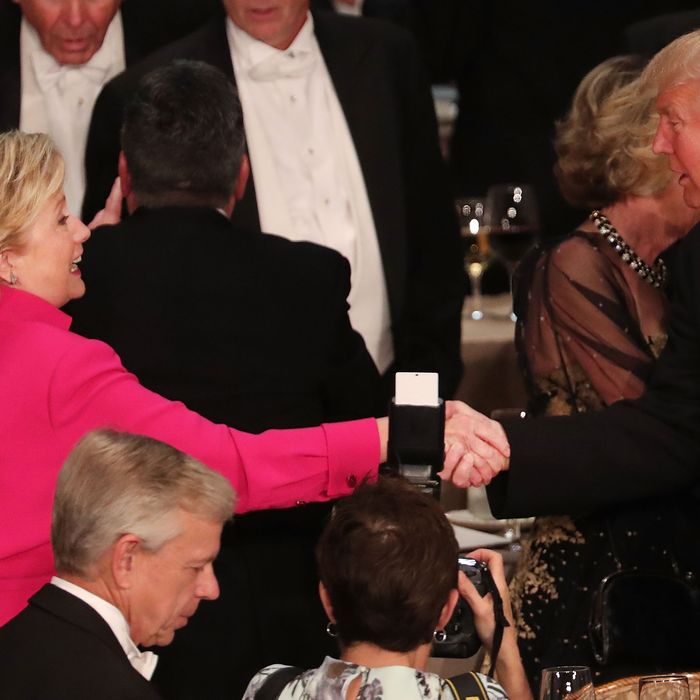 The most awkward moment of a very awkward evening.
Photo: Spencer Platt/Getty Images
Just one day after the final presidential debate, Hillary Clinton and Donald Trump again shared a stage, this time at the Al Smith Dinner, a tony annual white-tie charity dinner at the Waldorf Astoria in New York City. The dinner benefits Roman Catholic charities but also serves as a kind of election-season White House Correspondents' Dinner in which the candidates can show off their more human sides, tell jokes, and rib each other — hopefully — good-naturedly.
In the context of one of the most contentious elections ever, this year's dinner promised to be one of the most outlandish and potentially uncomfortable in history. For the most part, the candidates did not disappoint.
While Trump and Clinton did technically share the same stage, they were separated at all times by the Cardinal Timothy M. Dolan, the archbishop of New York, and spent the evening when they weren't speaking pointedly ignoring each other. During his comments, Dolan called the space between the two candidates "the iciest place on earth," and the dinner's chairman Alfred Smith suggested Dolan should receive the Nobel Peace Prize.
The tone of the event was set before either candidate even spoke, when Smith said, "before the dinner started, Trump went to Hillary and asked, 'How are you?' She said, 'I'm fine — now get out of the ladies' dressing room.'"
Ever the entertainer, Trump was probably responsible for the biggest laugh of the night but also the event's loudest boos — until this year, booing was unheard of at the dinner.
The high point of Trump's remarks started as a comment on media bias. Complaining about why the media is so much harder on the Trumps, Trump brought up how the media loved Michelle Obama's recent speech but then "my wife gives the exact same speech and people get on her case. And I don't get it. I don't know why."
Trump quickly lost the room when he switched to a pointed attack on Clinton, calling her corrupt.
And the unprecedented booing only got louder when Trump dropped this ill-advised joke: "Here she is in public, pretending not to hate Catholics."
When it was Clinton's turn to take the dais, it quickly became clear that she wouldn't be pulling any punches either. She did take a moment to praise Trump spokesperson Kellyanne Conway before acknowledging that because Conway is a contractor, Trump probably won't pay her.
And she littered her remarks with asides about Trump refusing to accept defeat. "It's amazing I'm up here after Donald," she said, beginning her speech, "I didn't think he'd be okay with a peaceful transition of power."
When it came to Trump's treatment of women, Clinton delivered what was probably her most effective line of the night.
In describing the Statue of Liberty, she said that immigrants see it as a beacon of hope, but with Trump, he "sees the Statue of Liberty and sees a four."
"Maybe a five if she loses the torch and tablet and changes her hair," she added, before driving home her point, "You know what would be a good number for a woman — 45."
Clinton also gleefully laid into Trump over his connections to Vladimir Putin, saying that Trump was as healthy as a horse, before clarifying that she meant "the one Vladimir Putin rides around."
It all wasn't pointed jabs and insults. Referring to her now-infamous "basket of deplorables" comment, Clinton said that she just wanted to take the whole audience and put it in a basket of "adorables."
Channeling her debate strategy of probing Trump's insecurities, Clinton cracked a joke questioning his wealth. Saying that she wished Mayor Bloomberg was speaking at the dinner, she explained that she wanted to hear from a billionaire.
If there were an award for least sense of humor, it would have certainly gone to Rudy Giuliani, who responded to every joke at his expense — for example, from Smith: "We have the lights just right to make sure you'll be in Donald Trump's shadow all night" — with a deep scowl.
Clinton closed her remarks with some serious words about faith and charity, saying, "I believe how we treat others is the highest expression of faith and service," but perhaps her most inspiring words came at the end of her speech when she said: "So tonight, let's remember the spirit of the evening and what unites us, and just rip on Ted Cruz."
And yes, after an entire evening of pretending that the other did not exist, the candidates did briefly, awkwardly shake hands. And who said there's no civility left in our democracy?