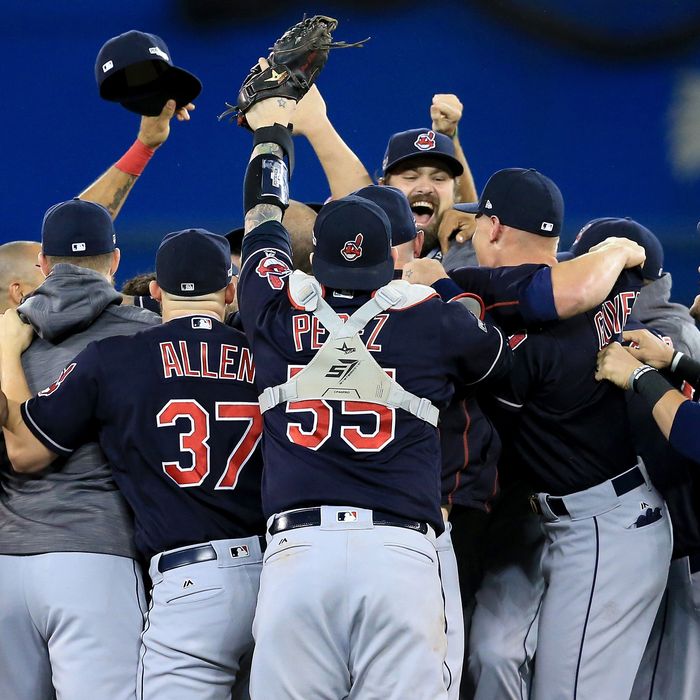 Photo: Vaughn Ridley/Getty Images
The city of Cleveland, which was suffering through a 52-year championship drought until the Cavs won the NBA title in June, will get another crack at a crown next Tuesday when the Indians open up the World Series at home.
Last night's 3-0 win over the Toronto Blue Jays, which ended the ALCS after five games and propelled the Indians to the team's first pennant since 1997, felt familiar. The Tribe hit a couple balls into the seats, then sat back and watched their bullpen work.
After rookie starter Ryan Merritt was pulled in the fifth with a three-run lead, Terry Francona handed the game over to his relievers, who've pitched 32 ⅓ innings this postseason and given up only six earned runs. Bryan Shaw, Andrew Miller, and Cody Allen combined for 4 ⅔ scoreless innings with five strikeouts and four hits, cementing the win by reducing one of baseball's best offenses to mush.
Miller, who was acquired from the Yankees on the last day of July, won the ALCS MVP after pitching in four of five games and not giving up a run. He's just the fourth reliever to win an ALCS MVP, but the first who has not pitched primarily as a closer. Instead, Miller was deployed when Francona needed him most and each time for more than a full inning.
The Indians will now have six days to rest up for the World Series and they'll be grateful for every moment of it. Injuries have depleted their rotation, but the long layoff should at least allow starter Trevor Bauer to recover from his freak drone accident. Meanwhile, they await the National League pennant winner. That will be either the Dodgers or Cubs, but the NLCS won't be settled until Saturday at the soonest. Until then, the Indians can rest up and watch this scene from Major League on a loop.