In August of 2013, Elon Musk casually released a 58-page proposal online with the unassuming title "Hyperloop Alpha." Building on an idea the Tesla and SpaceX founder had hinted at in public a few times, the paper laid out his vision for a sleek, near-supersonic train in a giant pneumatic tube that would whisk passengers between Los Angeles and San Francisco. Musk's inspiration had come when he found himself stuck in L.A. traffic, an hour late for an appointment, and from his disdain for the planned California High Speed Rail project, which had descended into a morass of schedule delays, cost hikes, funding shortfalls, and political overpromising.
The idea had a number of irresistible features. Beyond turning the San ­Francisco–L.A. journey into a 35-minute jaunt, it promised to be clean (100 percent self-sufficient, using solar-panel arrays on the tube), cheap (6 percent as expensive as California High Speed Rail), and glamorously futuristic (floating on what Musk called "air bearings"). It was possible, reading the paper, to picture oneself elegantly cocooned in a steel pod and gliding along the Pacific Coast in what was less a new kind of train than a 21st-century escape capsule freeing us from the archaic shackles of big-government infrastructure.
In any other era, such a plan might have been understood as a precocious youngster's idea for a sci-fi novel, or fodder for a screenwriter's elevator pitch. And in fact, though in the paper Musk worked through the engineering and economic problems in impressive detail, it received large quantities of professional skepticism: While physicists pointed out that the technology mostly already exists, various experts in transportation infrastructure and urban planning — people who dedicate entire careers to inching public-works projects along — found Musk laughably naïve about the difficulty of building such a thing. An opinion piece in the Guardian argued that "as a shovel-ready infrastructure project, it is dead on arrival," and a mathematician and transportation blogger named Alon Levy vividly imagined a 760-mile-per-hour "barf ride."
But Silicon Valley loved the barf ride. In this, the age of the moon shot — of bold missions to make flying cars and "end all disease" — Musk's hyperloop met all the criteria of bet-the-ranch, future-shaping audacity: a big vision, promising a new, "fifth mode of transport" after planes, trains, automobiles, and boats; the high purpose of using renewable energy; utopian visuals; and, perhaps most important, a terrific pedigree. Even the Valley's most peppy cheerleaders weary, occasionally, of pitches for the latest world-changing smartphone apps. Genuine moon shots stir real excitement in the hushed corridors of Sand Hill Road. But the difference between an intrepid moon shot and a misguided fantasy project often hinges entirely on the daredevil behind it.
Musk is Mr. Moon Shot — actually Mr. Mars Shot; he intends to make us a multi-planetary species. He is arguably a genius on his way to becoming a world-­historical figure. At Tesla and SpaceX, he has, through maniacal willpower, work ethic, focus, vision, and risk tolerance, repeatedly proved naysayers wrong by surmounting the seemingly insurmountable. And in recent years, he has assumed the mantle, up for grabs since the death of Steve Jobs, of Silicon Valley's reigning deity. It was only Musk's involvement that led many observers to take the hyperloop idea at least semi-seriously.
Which made it all the more unusual that Musk also announced, in his paper, that he was open-sourcing the idea. What with SpaceX and Tesla, plus five children, he had his hands full, and he offered his brainchild for adoption by the world's dreamers, no strings attached, to do with it what they would. One of those dreamers was a venture capitalist named Shervin Pishevar, who was friends with Musk and enthralled by his vision. The world was about to find out what happens to an Elon Musk idea when you take Elon Musk out of the equation, and how much hype hyperloop could withstand.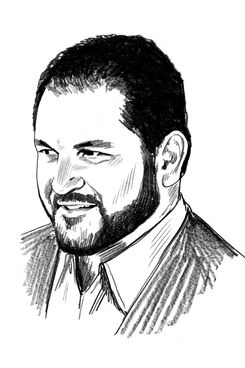 Pishevar is a man of gestures, a hugger whose Christmas party once featured live reindeer, who shaved the name and logo of one of his more successful investments, Uber, into his hair and had his McLaren sports car painted with a giant white dragon. He is an unreserved citizen of social media (he has tweeted more than 37,000 times), and his revelations range from samples of poetry he wrote when he was 21 to Valley aphorisms and earnest affirmations to photos of him with Justin Bieber and the Dalai Lama ("Blessed to have taken this journey to Dharamsala"). Once, he declared that he'd been oversharing and quit Twitter, but it proved a short hiatus.
Last month, when I met Pishevar at the L.A. headquarters of Hyperloop One, his company, he said he preferred to "walk and talk." He was dressed in black — black Armani jeans, black jersey, black casual jacket, black sneakers — and wore glasses with silver metal frames. He had recently lost 50 pounds. Pishevar, who is 42, was born in Tehran, and as we strolled L.A.'s gritty new Arts District, he recalled watching the bombs of the Islamic revolution fall and fleeing with his family to Washington, D.C., where his journalist father found work as a taxi driver and his mother as a hotel maid. Their children's education was their priority, and Shervin's father, who would later obtain his Ph.D. over eight years while still driving a taxi and become a school librarian, framed every award his children received.
Shervin, the youngest of three, would read for hours in the bathroom, a quiet oasis in his home. He spent days and nights on the Apple 2c his father worked overtime to buy him. In seventh grade he mailed Steve Jobs his hand-drawn design for an improved Macintosh. "I sometimes get emotional about what he could have been if he'd been born here," Pishevar said of his father. "He put all his hopes and dreams into his children."
Pishevar became driven to vindicate his parents' sacrifice while they could still experience it: "It scared the shit out of me — if they die and I haven't actually succeeded, I can never forgive myself." This urgency evolved into a honed efficiency after Pishevar's marriage to his UC–Berkeley sweetheart ended and, in his mid-20s, he became a single father with sole custody of two young children.* As the internet took off and Pishevar started a couple of software companies back home in Maryland, he situated his office directly across from their apartment to eliminate a commute; the kids came to the office after day care, and Pishevar would hold board meetings at the apartment, where the kids would crawl between members' legs. "What it forced me to do was try to hack time," Pishevar says. "And then that drove a lot of what became not just my entrepreneurship but also a core thesis around a lot of my investments."
Pishevar discovered he was good at making connections — at 23, seeking investors for a company called WebOS, he cold-called a then-unemployed Jamie Dimon, who invested — and ultimately moved to Silicon Valley, where he became an angel investor and later a venture capitalist. His focus became the so-called demand economy, time-saving "Uber for X" start-ups like Munchery (meals on demand), StyleBee (stylists on demand), Beepi (used cars on demand), and Uber itself: Pishevar's reputation in Silicon Valley is based mainly on the $20 million early Uber stake he secured in 2011 on behalf of Menlo Ventures, a firm where he worked for less than three years before leaving to start Sherpa Capital. "Hyperloop is the ultimate pinnacle of that idea of: 'Can we actually shrink space and time?' " Pishevar told me.
Pishevar had heard Musk speak privately about the hyperloop idea, and in January 2013, while traveling on Musk's jet to Cuba on a humanitarian mission in which Sean Penn was involved, Pishevar asked Musk what he was going to do with it. Musk said he was too busy to take it on himself and had planned to open-source it anyway. He gave Pishevar his blessing to proceed.
Though Musk's focus had been passengers, Pishevar was most interested in cargo. He thought that upending transportation logistics — shrinking delivery, inventory financing, and warehoused-asset-depreciation periods from days to hours — could radically affect the world economy, and though this might not look quite so Jetsons, it could potentially be hugely lucrative. And after years of sitting through thousands of investment pitches, he had come to believe that the scale of the idea worked in its favor. This was a time of unparalleled access to capital and engineering talent, an optimal environment for launching moon shots. "It doesn't mean everyone's going to succeed, but damn it, more of us need to have the courage to try," he told me. As a child, he had taped to his bedroom wall Teddy Roosevelt's exhortation to be "the man in the arena." Here was the ubiquitous networker's chance to get in the ring.
Pishevar mined his prodigious contacts list and began assembling a board of luminaries, including PayPal alumnus David Sacks, former Obama spokesman Jim Messina, and X Prize creator Peter Diamandis. Pishevar needed an engineer to oversee technological development, and in 2014 he was introduced to Brogan BamBrogan (more on the name later), an engineer who had spent ten years at SpaceX. BamBrogan came onboard and hired another ex-SpaceX colleague, Josh Giegel, and they set to work imagineering the future in the garage behind BamBrogan's house in L.A.'s Los Feliz neighborhood.
Pishevar, meanwhile, continued on his quest to hack time, now selling his vision of the hyperloop before it was a reality. He knew that Hyperloop Technologies, as he first named the company, would sound dangerously close to a boondoggle if it didn't prove itself quickly. As it turned out, he was also facing competition from a crowdsourced, volunteer-staffed company with a confusingly similar name, Hyperloop Transportation Technologies. It was perhaps not a serious long-term threat — the company was run by a former Uber driver and a former Italian MTV VJ — but Hyperloop Transportation Technologies had a few months' head start over Hyperloop Technologies, and the amateurish nature of his rivals didn't help Pishevar in the credibility game, which he recognized was, at this point, the entire game.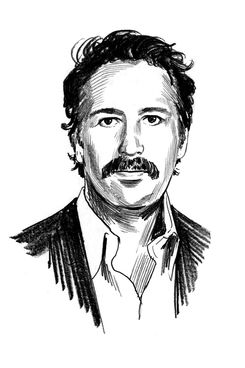 Pishevar knew the power of a well-placed media exclusive to lubricate the creation of something from nothing. In fact, he had been keeping Forbes technology editor Bruce Upbin up to date on every development of his new venture since its infancy. "Shervin mentioned the Forbes piece early, maybe even the first day I met him," BamBrogan remembers. By early 2015, Pishevar's company was a few steps further along, having hired a general counsel (Pishevar's brother Afshin, who was bunking in BamBrogan's spare bedroom) and raised $7.5 million, primarily from Pishevar's Sherpa Capital and from Formation 8, a VC firm run by the investor Joe Lonsdale. But the company was still in BamBrogan's garage, with no health insurance, no company insurance, no HR processes, no website, and no office space. The only thing holding it together, at this point, was Pishevar's estimable sales skills. With a big Forbes story now slated for imminent publication, the company was in a race to acquire enough of a patina of substantiality to merit prominent coverage in America's most famous business magazine. "It was crazy," BamBrogan recalls. "We're spending time finding the right industrial space that we want to grow into but also that we can do for this Forbes shoot."
A recently hired director of operations knew the landlord of a large campus in downtown L.A., and at the end of the month, BamBrogan and his handful of colleagues moved into a sliver of the space, a 6,500-square-foot former ice factory, before they had secured a lease. With the magazine deadline looming, the skeleton crew were unrolling carpets, BamBrogan was making repeated trips to Ikea in his Audi sedan to buy 16 Vika Amon tables and 64 Vika Adil legs, and the company was buying 25 computers and 50 monitors. Some of the computers had only one graphics card and couldn't actually run two monitors, but the super­fluous equipment beefed up the apparent size of the company. The day of the shoot, BamBrogan and his co-workers scheduled a flurry of job interviews in the office so that more people would be around.
But BamBrogan couldn't argue with the results. On February 11, the Forbes cover story "Hyperloop Is Real: Meet the Startups Selling Supersonic Travel" was posted online, and questions of chicken and egg became moot. Hyperloop Technologies received more than 3,000 job applications in the first few weeks, and the number of potential investors paying attention expanded dramatically. The Forbes story, Pishevar says, "seeded the process of capturing the world's imagination." The magazine's cover showed Pishevar with his tie streaming over his shoulder as if to suggest a rocketing hyperloop journey, a company hurtling thrillingly into the future.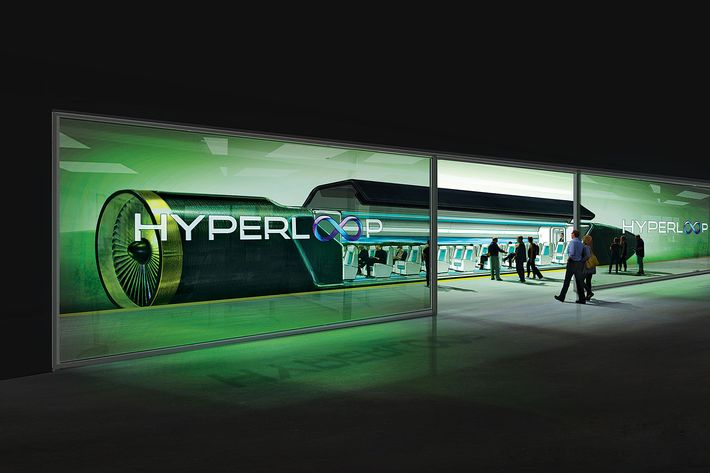 Brogan Bambrogan, the son and grandson of engineers, was born Kevin Brogan. At SpaceX, everyone called him KBro. When he married, he and his wife Bambi Liu, an actress, mashed their names together. She became Bambi BamBrogan. He doubled down on Brogan. "I mean, c'mon," he told me this summer. "Brogan BamBrogan is fuckin' rad."
We were at his house in Los Feliz. In the living room, hanging like Christmas stockings from the mantelpiece, were strips of repeating sonogram images, in utero portraits of the soon-to-be-born Elvis BamBrogan. Elvis's father wore skinny black jeans and a T-shirt with a picture of Jesus surfing; a statement mustache draped from his upper lip. We headed out back to the freestanding garage where Hyperloop Technologies was born, and as a Chihuahua named Toby scampered around his feet, BamBrogan hastily wiped down a whiteboard with doodles and words including wonkavator.
BamBrogan had been among the first two dozen employees hired at SpaceX. He designed the second-stage engine for the Falcon 1 rocket, flying on Musk's private jet to the South Pacific atoll where it launched. Later, he worked on the thrusters and heat shield for the Dragon, which became the first nongovernment spaceship to make a successful round-trip cargo delivery to and from the International Space Station. By 2013, SpaceX had more than 1,800 employees and BamBrogan had wearied of ten years of waking up at 6:20 a.m. and getting home at 10 p.m., and he left the company.
BamBrogan hadn't been inspired by Musk's original hyperloop proposal, which sounded like its main purpose was to help rich people zoom between cities, but Pishevar's vision of using hyperloop to move freight was a giant logistical challenge that struck him as world-changing and thrilling. They agreed that Pishevar would raise money and serve as executive chairman, while BamBrogan would be chief technology officer. By November of 2014, BamBrogan and Giegel were hard at work in the garage. Pishevar, based in San Francisco, had his day job co-running Sherpa Capital, so BamBrogan was also Hyperloop Technologies' acting CEO.
In the 14 months after the Forbes cover article was published, the rate of growth at the company was bracing. Every week seemed to bring an exciting announcement: The starchitect Bjarke Ingels would design the tube and pods; there were now 150 employees; the ­company had raised another $80 million; it would break ground on a new factory in Nevada. But at the same time, BamBrogan, accustomed to the engineering-centric culture of SpaceX, chafed at what he felt were distractions and missteps imposed from afar by Pishevar.
Pishevar's relationship with the company was unusual. He was neither its visionary nor its technologist nor its operator, but he was Hyperloop's hype man, its driving force, and he owned the majority of its equity. (In later legal filings, BamBrogan claimed Pishevar had 90 percent and BamBrogan only 6 percent.) Pishevar told me he saw his role as being like that of a composer and mentioned other "investor-entrepreneurs" who have incubated companies, such as Reid Hoffman with LinkedIn, Peter Thiel with Palantir, and Menlo founder Henry DuBose Montgomery with biotech firm Gilead. But none of those founders were launching moon shots. To some extent, Pishevar stayed in contact with the company through his brother, who had previously run a small law firm in Maryland, but BamBrogan found Afshin both obstructive and officious. ("It's called the practice of law," Afshin informed various people on several occasions.) Shervin, in BamBrogan's view, was mostly underinvolved, when he wasn't irritatingly overinvolved.
BamBrogan and other overworked, time-strapped engineers found themselves spending hours giving tours to Friends of Shervin such as Kelly Rohrbach, the Sports Illustrated model best known as Leonardo DiCaprio's ex-girlfriend. When singer Katy Perry visited the Hyperloop offices, she spent hours there: A half-dozen other Pishevar portfolio companies were present to pitch her to invest as she met with them one by one. Another day, BamBrogan recalls, a bulky guy showed up saying Shervin had sent him to take a tour: BamBrogan thought maybe this was a potential investor, until the man revealed that he worked as a doorman at the nightclub 1Oak. How long had he known Pishevar? "He came in last night," the doorman told BamBrogan. "He was supercool. I was chatting with him for a while." (Pishevar denies that he invited the man in for a tour.)
It started to occur to some of the staff that perhaps the greatest beneficiary of the buzz Pishevar was building around Hyperloop was Pishevar himself. He dated the representative assigned to the company by the public-relations firm Pramana Collective, which charged a monthly retainer that grew to $40,000. (And which, to BamBrogan's and other employees' alarm, failed to reduce the confusion between Hyperloop Technologies and its less capitalized competitor.) David Pendergast, a former lawyer with the white-shoe firm Davis Polk who joined Pishevar's company this past January, and William Mulholland, the company's VP of finance, were tasked with overseeing an $80 million funding round, and they were confounded by the board's insistence that the company use as its exclusive banker an outfit called Fideras — which seemed to be just Lonsdale's younger brother Jonathan and a partner. Jonathan was in his 20s; the Fideras website, only recently set up, mentioned his youthful chess prowess and his interest in karaoke. The company, in legal filings, has defended its hiring of Fideras as having been compelled by Pendergast's and Mulholland's "incompetent work" in an earlier funding round and praised Fideras as having advised several unnamed "multi-billion dollar technology companies" and "helped raise hundreds of millions of dollars."
Pishevar remained keenly mindful of the power of big moments, and this past May, the company invited more than a hundred journalists, investors, and partners to an industrial park in the desert north of Las Vegas for an event designed to convince the world that Pishevar and BamBrogan's company was the only serious Hyperloop player. The company would reveal several new partnerships with major transportation entities (the infrastructure company Aecom, the French national rail company SNCF), the completion of the $80 million funding round, and a corporate rebrand as Hyperloop One.
As the day approached, BamBrogan again worried that Pishevar was getting ahead of himself. This was initially designed to be a publicity event — among Pishevar's invitees to a Tuesday-evening dinner at a nightclub was a friend named DJ Irie — with maybe a side trip the next morning to the test site. But suddenly a propulsion test — a 1,500-pound sled speeding along a 300-meter-long set of rails—became the main event. "It went from this idea of 'You're going to go to the zoo, and there might be an animal' to 'This monkey's going to juggle,' " BamBrogan says.
BamBrogan was proud that his team had engineered the propulsion to be scalable to a cost-effective production system, but, superficially, the technology wasn't very impressive: It was out in the open, rather than in a near-vacuum tube, and was indistinguishable to the layperson from something you could already see at five or six sites in the U.S. as well as on some roller coasters. Any technical snafu, captured on video and broadcast to the world, could have been disastrous for the company.
As Pishevar readied his presentation for the event, BamBrogan talked him out of using a clip of President John F. Kennedy saying "We choose to go to the moon" with an image of Neil Armstrong setting foot on the lunar surface. Still, Pishevar told the crowd that Hyperloop heralded a return to Pangea, the early-Jurassic supercontinent when all the world's landmasses had been knit together as one. "We've got a couple dozen engineers, they've been working a couple months to make a linear electric motor that we're going to show off tomorrow, and you're going to talk about Pangea? You're killing me, bro. You're killing me," BamBrogan recalls. "I was like, what are you going to save for the actual Kitty Hawk moment? Jesus coming out of the cave?"
But for Pishevar, who settled for quoting a different president at the event (Roosevelt, on "the man in the arena"), the propulsion test was a key next step in willing hyperloop into existence. As he wrote later, in a blog post: "There's a lot of noise, hope, and hype out there about what the Hyperloop could be and will be, but this metal sled absolutely grounds the idea in much-needed reality … I had tears mixed with sand." Most important, he told me, his parents were still alive. "For me, the fact that they saw the test and have seen the things we're doing, that's everything."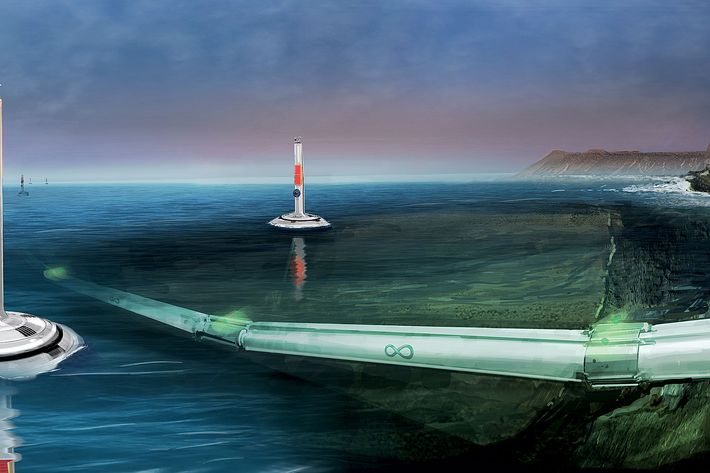 Public reactions to the Nevada event, where a sculpture of a unicorn's head was mounted at the start of the track, were mixed. Mass media were breathlessly rosy (USA Today: "Welcome to the age of hyperloop"). Tech-savvy journalists were leery (MIT Technology Review called the test "underwhelming," and Allison Arieff, a design and urban-planning writer, likened the technology in a Times op-ed to a "Nerf rocket launcher").
Internally, the company's machinery was falling apart. BamBrogan and Giegel wrote a letter to Pishevar and Lonsdale articulating a number of complaints, including the outsize voting control and equity held by the VCs, relative to the engineers, as well as the "misuse of company resources and corporate waste by both Shervin and Joe." Nine other senior executives, including Pendergast and Mulholland, also signed the letter, which was emailed on May 26.
In response, Lonsdale sent an email to the board and the company's engineers accusing BamBrogan of being "unstable" and having "gone haywire." At a seven-hour meeting on May 31 between the group of 11, CEO Rob Lloyd, and a board member named Justin Fishner-Wolfson, "the first thing Justin said to us was, 'Shervin and Joe think you're all replaceable,' " BamBrogan says. "That kind of set the tone," Pendergast says. (Fishner-Wolfson denies this.) Three weeks of tense negotiations followed, and the company made several concessions, including increasing engineers' equity, reducing Pishevar's and Lonsdale's voting control, and creating a board seat for an engineer. The company would not, however, accede to certain of the letter's demands, including that the board no longer be able to make personnel decisions, that Pishevar step down as executive chairman, that both BamBrogan and Giegel be appointed to the board, and that employees be given voting control of the company.
By mid-June, the groups were still at odds. BamBrogan withdrew from a planned trip to Moscow with Pishevar to meet with potential investors, including oligarch Ziyavudin Magomedov, who heads the Summa Group conglomerate. In explaining himself, BamBrogan was surprised to learn they weren't already aware of the problems at the company. When Pishevar met alone with the Russians and was asked about the issues, he felt sandbagged; BamBrogan says Fishner-Wolfson later told him, "You endangered Shervin's life," which Fishner-Wolfson denies. What the company now labels seditious sabotage, BamBrogan has defended as an act of conscience. In any case, that evening, at 11:28 p.m., security cameras captured Afshin Pishevar walking with grim purpose toward BamBrogan's desk, one hand clutching what looked like a rope.
The next morning, BamBrogan arrived at the office to find that rope, one end looped and knotted, on his chair. To BamBrogan, it looked like a noose, and a clear threat. The company would later maintain in legal filings that the rope was not a noose but a "lasso" — a reference to BamBrogan being a "cowboy" — but at the time, the company took it seriously enough that Afshin Pishevar was fired and escorted from the campus and a team of armed security was hired for 24 hours. He still had a key to BamBrogan's house, though, so that night, both BamBrogan and Pendergast stayed with their families at hotels. At that point, some of the signatories backed down and agreed to remain at the company, but not all. Lloyd fired Pendergast, and the next morning BamBrogan, Mulholland, Giegel, and Knut Sauer, the company's head of business development, emailed their resignations. (Eventually, Giegel agreed to stay at the company, which gave him equity, a promotion, a board seat, and the title of co-founder.) BamBrogan, on the day he resigned, went to the L.A. courthouse seeking a restraining order (it wasn't granted). "I very authentically feared for my life," he says.
On July 3, Pishevar tweeted an airily harmonious sentiment: "Towards Pangea again. Hopefully the world can be one again." Nine days later, while Pishevar was in Greece at the wedding of Alexia Tsotsis, former editor of TechCrunch, BamBrogan, Pendergast, Mulholland, and Sauer sued the company, Pishevar, his brother, and Lonsdale for breaches of fiduciary duty. A week later, Hyperloop countersued, dubbing the mutineers the "Gang of Four" and dismissing their "Sham Complaint" as a PR stunt and a first strike aimed at effecting a "coup."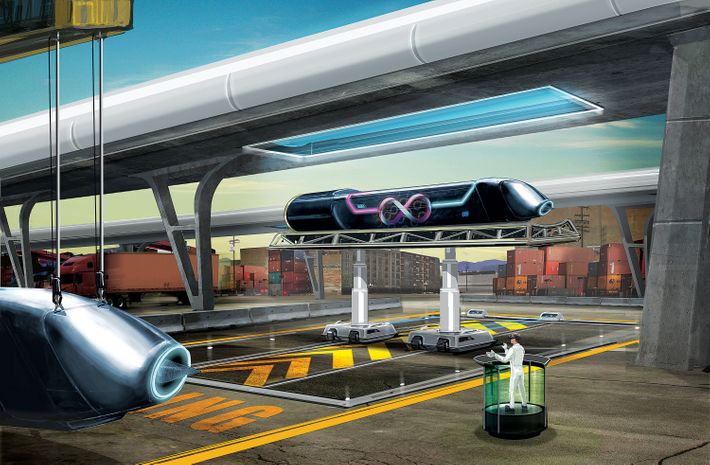 Sometime between January and March of 2017, in a flat industrial park in Nevada, Hyperloop One says it will finally have its Kitty Hawk moment. There, the world will see a full-scale model of a hyperloop, with a magnetically levitated cargo pod speeding through a near-vacuum tube for half a kilometer. At Hyperloop One's L.A. headquarters on Sacramento Street a few weeks ago, it was easy to buy into the company's vision. A flat-screen wall monitor played a slick video depicting the lightning commutes of the future, like traveling from Toronto to Montreal in 32 minutes or Johannesburg to Cape Town in 74 minutes. On a table, a topographical map showed an under­water hyperloop running from Los Angeles to San Francisco: This would mitigate the daunting land-use issues.
The company is in furious growth mode. It has raised $160 million, and there are now almost 190 employees, some 130 of them engineers. Three of them gave me a tour. The converted factory was full of young staff working intently to meet the deadline for Kitty Hawk. (Thirty of the workers are at two sites in Nevada, building the hardware.) As far as high-tech toys go, it was a candy store: huge bell jars in which machinery was being subjected to a vacuum, a machine capable of applying 300,000 pounds of pressure, a custom-built industrial robot, a giant segment of tube, environmental test chambers, a machine that showed magnetic levitation at work. There was palpable excitement among the engineers. Some were there for the challenge, others to do good. (One engineer, explaining his attraction to Hyperloop, told me he'd "seen the coral dying in the ocean.")
But Hyperloop One has departed from Musk's original vision not just in its focus on cargo shipping. The company plans to use a modified version of existing passive magnetic-levitation technology, rather than Musk's innovative air bearings. It plans to rely on grid power, not solar arrays. The projected cost-per-mile has gone from 6 percent to 60 percent of that of California High Speed Rail. Oh, and nobody outside the company believes a passenger hyperloop is coming to California anytime soon. Even those within the company recognize that the first hyperloop will probably be built somewhere like Dubai, with its flat terrain and wealthy autocratic government. If it does get built there, it will still raise the question: Is this the start of a new era, or just the latest ski slope in a shopping mall?
One person who's confident about the company's prospects is the author of the Forbes article that put it on the map, Bruce Upbin, who in May joined the company as its vice-president of strategic communications.* Pishevar, who has said that he expects there to be a working passenger hyperloop, somewhere in the world, by 2021, insists that the company is stronger than ever, and he shrugs off the suit, which is ongoing, as a speed bump he doesn't spend much time thinking about. "I think this idea is bigger than any one person, including myself, and in many ways this is a movement, and anyone that begins to feel like they're indispensable, or that they're bigger than the idea, doesn't fit the culture anymore." He mentioned famous founder schisms at other tech companies. "The people that we sometimes start our journeys with are not the people we end the journeys with."

But in Silicon Valley, traditional venture capitalists have for the most part steered clear of the company, finding it too speculative, capital-intensive, and long-term to meet their investing criteria. (An exception, Vinod Khosla, told me he was "only a token investor.") "Most people thought it was not a scam but a fantasy," says a seasoned Valley insider who knows the players and who allows that Pishevar's enthusiasm is genuine: "He believes this bullshit." The lawsuit hasn't helped. "No one was taking it seriously. Now it's like, Who are these clowns?"
"He reminds me of Voltaire," says Kara Swisher, co-founder of Recode and a fan of Pishevar's, referring to the philosophe's ever-sunny Candide. "People get attacked and there's war, and he's like, 'All for the best, in the best of all possible worlds.' " As we walked around the neighborhood near the company headquarters, Pishevar stopped to hand a few crumpled bills to a homeless man on a crate, and pointed out a retro typeface on the old Sears building. "When I look at cities now, I don't see them in the present," he said. "This is the decaying infrastructure of our existing cities. Years from now, none of this is going to be here. New cities are going to rise."
Maybe the best thing going for hyperloop the concept — if not Hyperloop the company — is that Musk has not abandoned the idea. At last summer's Code conference, a month before the lawsuit was filed, he said: "I think if the companies that are trying to make it happen now, if for whatever reason that doesn't work out, then I think, you know, I'll, I might do something myself in the future."
*This article appears in the October 17, 2016, issue of New York Magazine.
This article has been corrected to reflect that Bruce Upbin's title is vice-president of strategic communications, not director of communications. It has also been corrected to show that Shervin Pishevar was divorced in his mid-20s, not his early 20s.