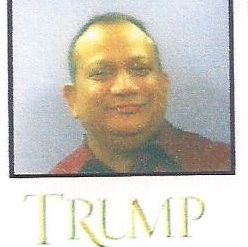 On April 7, Zakir Hossain turned on his family's computer and did something he had never done before: He contributed to a presidential campaign. That night, the 45-year-old father of three made a donation of $10 on his credit card to Hillary Clinton. Since then, he has given dozens more times to Clinton's campaign, all in small increments averaging $40. In total, he has contributed $2,458.
Hossain is not a man of means. Until last week, he was a waiter at Trump Taj Mahal Hotel and Casino in Atlantic City, making $10.98 per hour plus tips. He worked for various Trump properties since joining the company as a server in 1993, three years after immigrating from Bangladesh.
Hossain is the only Trump employee (in his case, former) Intelligencer was able to identify who has contributed to Clinton's presidential campaign. His palpable frustration toward the GOP nominee came across in a series of telephone interviews about his time working at Trump properties.
One key moment that helped turn him against his old boss: Trump's claim, at a rally last November, that he saw "thousands of Muslims" celebrating in New Jersey on 9/11. This claim has been debunked by fact checkers, but Hossain, who often attends services on Fridays at his local mosque, says he is still pained by it.
"We are part of this country — why would we be cheering?" Hossain said. "How can he tell all these lies?" He is also offended by Trump's pledge to build a long wall along the U.S.-Mexico border. "You can build a 100-foot wall, people will still come over. He doesn't know how to actually solve problems." He added, "They are our neighbors — I thought Americans were nice to neighbors. What has happened?"
Of Clinton, he said: "I think she is very qualified, and I believe she will be tougher on discrimination." He said he also wanted his high-school-aged daughter to have a president she could look up to. He does not think that is possible with Trump, especially after the publication of the now-infamous Access Hollywood tape and the growing list of women who accuse Trump of sexual misconduct.
Hossain's two decades of service at the Trump Taj Majal were stymied ambition. In 2007, at age 36, Mr. Hossain completed his bachelor's degree in accounting and hoped to use his skills to rise in the organization. He applied for an accounting job within the Trump Entertainment properties in Atlantic City, and even sent his résumé to the Trump Organization in Manhattan.
While he never heard back from the Trump Organization, he did have an interview with an accounting manager for Trump Entertainment in Atlantic City — at the time, Trump still maintained control of the company (earlier this year, financier Carl Icahn took over the Trump Taj Mahal).
He recalls the manager asking him, "Are you related to Saddam Hussein?"
"I told her, my name is spelled 'Hossain' not 'Hussein,' and I am from Bangladesh and Saddam was from Iraq," he said. "She didn't understand the difference. I really felt this was discrimination."
Based on their conversation, Hossain said he realized that they weren't going to give him a chance to "go from blue collar to white collar." So he remained a waiter, despite his desire to do more.
But now, with the closure of Trump Taj Mahal — announced by Icahn in August after he failed to revive the casino — Hossain is out of work entirely.
"My daughter asked me, Baba, they are closing the casino, what are you going to do?" he said. "I told her, I really don't know." Hossain had a few interactions with Donald Trump during his 23 years of employment. Occasionally he would see him pass through the casino. "He never said hello to staff," Hossain said. "Now that he wants to be president, I see him shaking hands — but he didn't shake any hands then."
Once, Hossain was tasked with delivering food to Mr. Trump's suite at an Atlantic City property then known as the Trump Marina Hotel and Casino (today it's the Golden Nugget). Trump did not acknowledge his presence as he left the food. Hossain recalls being tempted to say something to get his attention, but decided it wasn't worth the risk of being fired.
When asked if he was aware that his donations to Clinton's campaign — which began after Icahn acquired the Taj Mahal — were a matter of public record, he said, "I didn't think anyone would notice me."