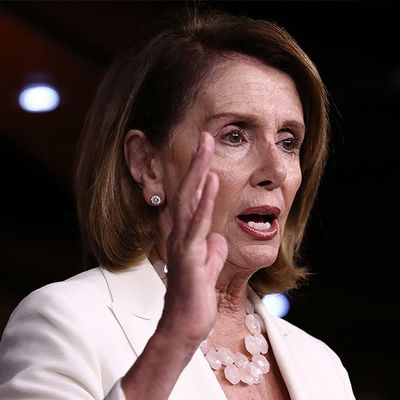 Nancy Pelosi could yet take Paul Ryan's gavel away, but it won't be easy.
Photo: Win McNamee/Mark Wilson/Getty Images
While the fight for control of the U.S. Senate has long hung fire, what's new in the election stretch-run reckoning is the possibility that a generally bad year for Republicans is eroding the previously very high odds the GOP would maintain its majority in the House. Republicans are probably going to lose seats in any event, and that could cause some problems for Speaker Paul Ryan, whose margin of error to survive a backbench conservative revolt could be wiped out. But now it's no longer out of the realm of possibility that Democrats could gain the 30 net seats they need to flip the lower chamber. That would be a development of enormous significance, particularly if it is in conjunction with a Democratic takeover of the Senate, which would likely happen in the kind of "wave" election that placed the House in play. A Democratic Congress could enable a President Hillary Clinton to enact major elements of her domestic agenda, from a minimum-wage increase to an Obamacare "fix" to an upper-end tax increase to pay for it all.
Clinton is now leading Trump in the presidential race by the kind of margin (6 points in the RealClearPolitics polling averages, 7 points in HuffPost Pollster's averages) normally associated with a big margin down-ballot. But a combination of incumbency, gerrymandering, superior GOP voter distribution, and inferior Democratic-candidate recruitment means that one cannot assume a Democratic win in the popular vote will translate into Democratic seats. In 2012, in fact, Democrats won the national House popular vote by 1.3 million votes, yet won only 201 seats.
Trump's travails have raised some possibility that the Democratic popular-vote advantage could go much higher into the kind of "wave" election that can produce big gains. Polling of the congressional generic ballot, in contrast to presidential polling, currently gives Democrats a 5-point margin, according to the RealClearPolitics averages. If it moves up into the neighborhood of the high single or low double digits, House Democrats could have the oxygen they need to capture the chamber. In 2006, for example, an 8-point national-popular-vote lead for Democrats produced a gain of 31 net seats — one more than this year's target.
But House victories have to be won district by district. And at the moment, most prognosticators don't see the sheer number of vulnerable Republican seats that would normally yield big Democratic gains. Both Daily Kos Elections and Cook Political Report currently show 30 Republican-held House districts as competitive (toss-ups or leaning in one direction or the other). But Democrats have some vulnerable districts as well (ten according to DKE, seven according to Cook), so even a lucky sweep will not do the trick unless Democrats become competitive in races that now tilt pretty heavily to Republicans. And there are a number of factors that could increase ticket-splitting among voters abandoning Donald Trump at the top of the ticket while sticking with Republicans down-ballot — including paid ads for GOP candidates recommending them as a curb on a President Hillary Clinton.
Races to watch to see if Democrats can get themselves into the ballpark for winning the House begin with one very ripe national target, Representative Darrell Issa of California, who represents a Southern California district where Trump could take a beating. The very wealthy and regularly abrasive Issa has been conspicuously pro-Trump, and is in a real race with Democrat Doug Applegate, who is benefiting from major national-party-committee financial support.
Another possible bellwether is the rural, blue-collar second congressional district of Maine, where freshman Republican Bruce Poliquin won a House seat in 2014 in part because of a ballot initiative on bear-baiting that drew hunters and other conservative folk out in droves. He's in a rematch with Democrat Emily Cain in this historically Democratic district, and could be helped by another ballot initiative, this one expanding background checks for gun ownership. A big variable in ME-2 is Trump, who has led in some polls in this district, one of two in the country that independently award a presidential Electoral College vote.
If you are looking for a vulnerable Republican whose defeat could really frighten Paul Ryan and his colleagues, Kevin Yoder of Kansas, who represents a suburban Kansas City district, is a good choice. Yoder was rated as a safe reelection bet against Democrat Jay Sidie. Between Trump and Governor Sam Brownback, Kansas Republicans are dealing with a lot of handicaps and internal divisions. But the state's partisan leanings should be enough to rescue Yoder — unless a wave appears.
Stephen Wolf of Daily Kos Elections sums up the uncertainty about the House:
[I]t isn't impossible that some of those seats where Republicans are modest favorites could swing toward Democrats over the final few weeks. Indeed, many prognosticators only captured the 2006 wave very late in the election cycle, and the same thing could happen here.
Democrats should hope Trump keeps acting crazy and that Republicans cannot get quite far enough away from him. Otherwise, Republicans will likely hold on to the House and hold a veto over Hillary Clinton's agenda.