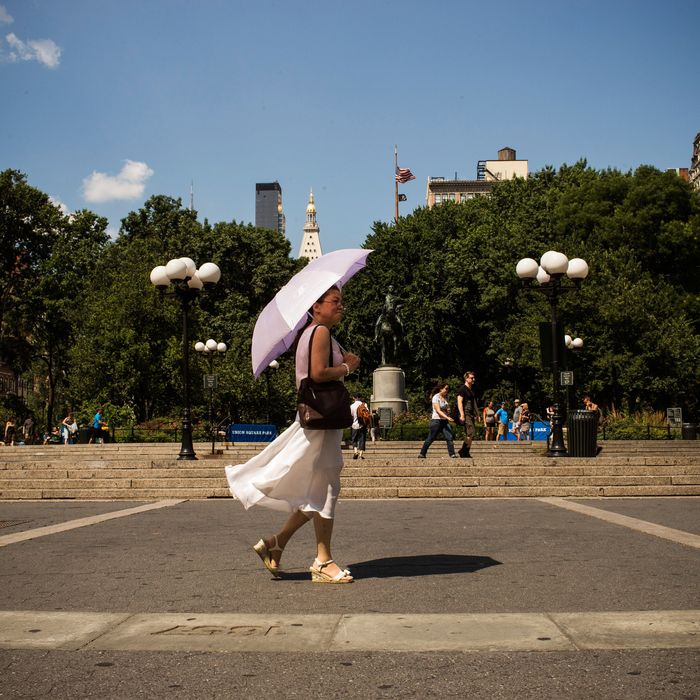 Photo: Andrew Burton/Getty Images
As promised, the New York area saw some of its temperature records shattered by a mid-October heat dome. The hot spell peaked Wednesday, with reporting stations in New York City, Long Island, and New Jersey all busting previous record highs. Here's the breakdown, courtesy of the National Weather Service:
The most dramatic records were those set at JFK and in Islip, Long Island, beating the previous title-holding temperatures by close to ten degrees. The National Weather Service says October 19 is now the latest 80-degree day ever noted at the Islip station. (It was previously October 15, in 1990 — but still.)
Tuesday wasn't too shabby either:
But if fall's bleak darkness at 6:30 p.m. combined with July's sticky heat is weirding you out — fear not. Cool autumn weather is coming back, in a big way. There will be a more than 30-degree drop in temperature highs between Wednesday and Saturday. First, rain heads in Thursday and Friday, though heavy, intermittent showers are probably more likely than steady rainfall, says New York Metro Weather. Then, this weekend, a taste of November. The highs this weekend probably won't crack 60 degrees, likely staying in the mid- to upper 50s. Upstate New York could even see its first snowflakes of the season.